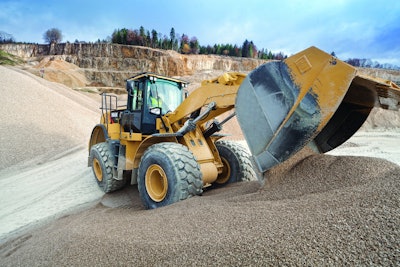 "With the 966K XE we wanted to set up a new level of fuel efficiency, and go a step further in simplifying the machine's operation," said Thierry Brasseur, medium wheel loaders product and application specialist, for Caterpillar's European division, speaking today at a Caterpillar press event in Peoria.
Production units started going to European customers in June, with North American models available later this year. Cat is claiming fuel efficiency gains of up to 25 percent with the model. The 25 percent increase in fuel economy is obviously the biggest gain, said Brasseur.
Also important: the ability to work the machine at lower rated engine speeds (designed to run between 1,250 to 1,600 rpms) and being able to control machine speed independent of engine speed.
The 966K XE uses an integrated Cat continuously variable transmission system and a hydraulic pump and motor (variator unit). Cat says the variator unit allows for a smooth and continuous gear ratio change between engine speed and machine speed while greatly reducing the heat load generated by the drive train when the machine is digging, pushing and climbing under heavy load. The continuously variable gear ratio of the variator also enables the engine to run at a more efficient operating range independent of machine ground speed, Cat says.
[youtube TUvfYteLYn0 nolink]
Power is transmitted through the variator unit as well as a parallel mechanical gear path. Power through the variator and mechanical paths are combined through a series of planetary gear sets in order maximize the transmission efficiency over a wide range of operating conditions, according to Cat.
One user who is a believer is Christian Janssen, Janssen Group, Maastricht, Netherlands, one of the first contractors to test the 966K XE. The $22 million company specializes in earthmoving, general construction and quarry work, and employs more than 100 people in three divisions.
The 27-year-old Janssen is technical sales manager, part of the third generation at the company that includes his two brothers. The company's fleet includes 12 compact excavators, 13 medium excavators, 14 wheel loaders, 22 on-highway trucks, along with a variety of other equipment.
"We are interested in using technology to better serve our customers, so the possibility to test the machine was perfect, especially since we could do this in our own environment," Janssen said. "Fuel economy a big issue for us, and low emission machines give you advantages when contracting. We had several Cat H Series wheel loaders, so we felt we could compare the two."
Janssen's firm has been testing the machine since November 2011 in loading trucks, filling hoppers and load-and-carry jobs. Janssen Group worked at two Sibelco Europe MineralsPlus plants using the 966K XE. "The key finding was the lower fuel consumption, where we found reductions of more than 20 percent," says Janssen.
The contractor had fuel consumption rates of 3.03 gallons per hour, compared with the 966H, which used 3.38 gallons per hour. Janssen adds that changing regulations in Holland will eliminate the price difference between red diesel and regular diesel and underline the fuel savings. "What we like most is the higher productivity, lower cycle times, and the fact it is noticeably quieter," Janssen said.
Cat estimates it will take about two years to get a return on investment on the 966K XE.