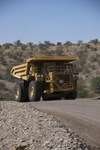 "We have a clear cut strategy for mining trucks," says Ed McCord, large mining trucks product segment manager, Caterpillar. "We now want to establish ourselves as a trucking technology pioneer, where historically that's not been the case. We're number one in mechanical drive trucks today, but we're determined to be number one in electric drive trucks.
"We want to be known as a mining truck company, not just a mechanical truck company."
McCord made the comments during a press event prior to MINExpo starting Monday. Cat built its first 785 mining truck in its Decatur, Illinois, plant in 1984. In 2011, the company shipped its 10,000th mining truck. McCord says Cat's plans for its Unit Rig brand has a slightly different strategy. "We don't have the same breadth yet, but we're building on the foundation, and we're going to continue Cat vertical integration of components in these trucks."
Offering three types of mining trucks — the Cat mechanical drive, Cat electric drive, and white-painted Unit Rig electric drive mining trucks — "allows us to be unbiased with customers," McCord says. It also gives them the ability to build on experience. According to Cat's calculation, their mining trucks (models 777 to 797) have put in more than 1 billion fleet hours through August 2012 (this figure excludes Unit Rig units).
One new product being showcased at MINExpo is the 320-ton Unit Rig MT5300D AC. "We took the best of Unit Rig and Cat, and went from concept to running prototype in record time," McCord says. It is scheduled to go into production in 2014.