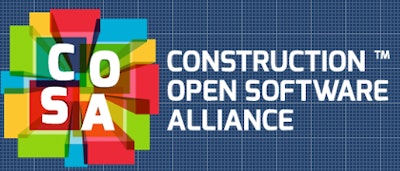 The Construction Open Software Alliance was officially launched during the opening keynote of the Associated General Contractors of America IT Forum Conference in Chicago Thursday. Compised of five software companies, the alliance seeks to facilitate greater integration between the software applications construction professionals depend on most.
The announcement came from James Benham of JB Knowledge Technologies Inc. during his address to IT professionals in attendance on the lack of and need for greater interoperability between cloud applications in the construction industry.
At one point, Benham asked an important question with regard to how the construction industry will adapt to the ever-changing computing landscape as it transitions more and more to the cloud.
"Why isn't asynchronous collaboration built into all of the software we use?" he wondered aloud after pointing out the wonderful experience of using cloud services like Google Docs, Gmail and Dropbox, which effortlessly and instantly sync documents and data across devices for millions of consumers each and every day.
"It should be."
Benham referenced a survey he recently took of construction IT professionals and cited the resulting statistics that showed 40 percent of those he spoke with reporting that they have no software applications that integrated with one another. Not a single application that talks to and shares data with another. Because of that, he found that Microsoft Excel spreadsheets are currently the number one way to transfer data in the construction industry with 52 percent of his respondents relating that this is the method they use.
Even more shocking? That percentage was followed by reports of manual pen and paper data transfer at 32 percent and no data transfer at all at 18 percent.
"This has to change. We have to have structured data. How do you store your data, secure it, back it up and report on it?" Benham asked.
According to Benham and the alliance's newly launched website, the alliance believes in making possible a seamless sharing of data and information between the software applications construction IT professionals depend on most.
"We believe that a one-stop-suite is not always the best choice and that it can be much more efficient for the end user to operate multiple applications when they integrate seamlessly," the website mission statement reads. "This can be achieved by an open applications standard built and acccepted by industry application developers which streamlines the transfer of cross-application data."
The standard that the alliance proposes the industry adopt is already here. In fact it's been around for five years. Back in 2007, the Associated General Contractors of America released the agcXML standard "as the first effort to standardize and encourage the efficient exchange of data between solutions in the industry," the website reads.
However, as Benham noted during his address Thursday, the vast majority of industry technology providers have not adopted the agcXML standard. "We are hoping that from a grassroots approach by the providers themselves, we can encourage broader adoption and collaboration," the alliance's mission statement reads.
In fact, agcXML development has stalled completely because of this lack of adoption and demand. It never even made it to version 1.0. Development of the standard stands still at version 0.6. But the alliance wants to change that, Benham says.
During his keynote, Benham noted that the alliance wants to give construction IT professionals an easier time picking out software and integrating it and seeing real-time integration. "We want quality, robust, out-of-the-box integration for you," he says. He also says the alliance wants to see the growth, development and expansion for intersoftware connections though agcXML.
"It's going to be a long road up this hill but we really believe we can make some headway," Bernham says.