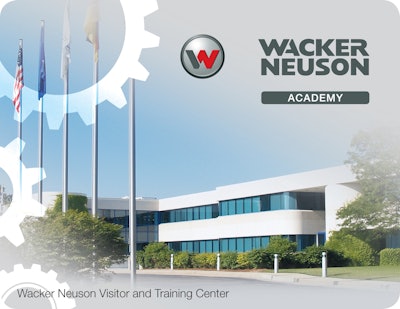 Wacker Neuson created a Technical Academy, which is a new endeavor by the compact and light construction equipment manufacturer to ensure contractors are up-to-date on the latest industry processes and techniques.
The Technical Academy's first class is scheduled for March 24 and March 25 at Wacker Neuson's training facility in Menomonee Falls, Wisconsin. The inaugural Technical Academy curriculum is a prep course for the ACI Specialty Commercial/Industrial Concrete Floor Finishers certification. The course will be conducted by 17-time Golden Trowel Award winner, Bryan Birdwell. He will join Wacker Neuson's Technical Academy to teach contractors his best practices and give them the technical skills they need to pass the highest level industrial/commercial certification exams.
The concrete prep course is a complete two-day session that includes classroom and hands on training. Day one will contain classroom seminars focusing on constructing concrete floors with topics including F-number system, random and defined traffic floors, constructing proper sub-grade, mix designs, hand tools, bull floats, check rods, bump cutters, machine patterns and troubleshooting. Day two is hands-on training in the placing and finishing of high tolerance F-number floors. Class participants will prep the sub-grade, verify the mix design and receive expert training in placing and finishing superflat and high tolerance floors.
The prep course costs $250 per person. This course fee includes two nights hotel accommodation, transportation to/from the airport, course materials and lunch. Participants are responsible for transportation to Milwaukee, Wisconsin. For more information and to register, please visit wackerneusontech.com.