Lasers
By Amy Materson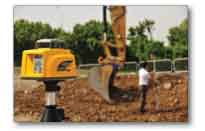 VERSATILE UNITS
Perform leveling, grading and vertical alignment with plumb with Trimble's Spectra Precision grade lasers, which feature wireless remote control that works 330 feet away from the laser.
• Single- and dual-grade models send continuous, self-leveled 360-degree laser reference
• -10 to +15 percent grade range enable use in variety of slope applications
• Rugged units withstand 3-foot drop onto concrete.
Visit EquipmentWorld.com/info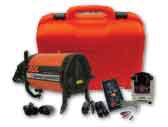 WIDE GRADE RANGE
Fit tight inverts and small pipe jacking pits with the GradeLight 3000 from AGL Construction Lasers, which is the shortest pipe laser available at 10.5 inches.
• Self-levels over a +40 to -10 percent grade range
• Incorporates vertical rotating laser beam for manual or auto alignment
• Color coded grade display reduces setup errors.
Visit EquipmentWorld.com

REMOTE OPERATION
Reduce field time by approximately 50 percent with Leica's ScanStation C10 laser scanning system, which includes wireless LAN connectivity for remote scanner operation.
• Embedded, parallax-free digital/video camera
• Software tool enables fast data transfer to any connected computer
• Features expanded data management options for scan data and non-scan data.
Visit EquipmentWorld.com/info
AFFORDABLE ACCURACY
Increase your operating range with the RL-H4C self-leveling rotating laser from Topcon Positioning Systems, which has a 2,620-foot-diameter operating range when paired with the LS-80L laser sensor.
• Has ±10 arc seconds horizontal accuracy and ±5 degrees
self-leveling range
• Single-axis manual slope capability for grade-matching setting
• Has a battery life of up to 100 hours; also operates with AC power.
Visit EquipmentWorld.com/info