"Conference call" communications in high-noise situations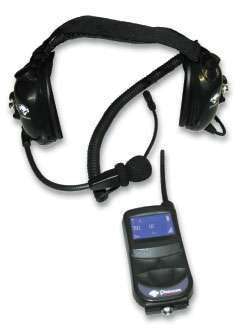 By Marcia Gruver
The typical two-way radio found on most jobsites has its limitations. First, in order to talk, you need to press a button, taking one hand off the work in front of you. Second, crew members are only able to talk one at a time. Third, using radios in high noise situations can be difficult to impossible.
Piratecom's VL6 tackles these problems, offering a hands-free wireless communications intercom for extreme noise conditions. The company, which started five years ago devising communication solutions for marine and government entities, introduced a construction version at World of Concrete.
"On the government side, we worked with a lot of customers – such as volunteer firemen – who had construction backgrounds," says Romao Carrasco, Piratecom co-founder. "They encouraged us to go into this market since the system offers the ability to communicate in environments up to 150 decibels."
The system gives up to six users the ability to communicate within a half-mile range outside, or a one-quarter mile range inside a building. The headset has a noise cancelling microphone tuned into the frequency range of the human voice; a filtering technology eliminates extreme noise levels, including noise created by wind, while allowing clear speech. The system's full-duplex technology means that all crew members on a system can talk simultaneously, instead of the one-talker-at-a-time arrangement on two-ways.
The wireless module, which clips to the user, has an electrostatic touch membrane keypad with no mechanical buttons or switches. This eliminates the possibility of a crew member accidentally tying up a radio system by leaning against it. A lithium polymer battery offers 20 hours of life in a single charge. The system, which offers encryption technology to eliminate eavesdropping, operates in a 900-megahertz license-free brand, requiring no monthly fees.
Initial construction customers have used the system while working in high traffic road construction, cement pumping operations and around cranes. The cost is $1,200 per user, and includes a choice of headsets, a VL6 wireless module and battery charger.
"This is not designed to replace two-way radios," Carrasco says. "Rather, it's for situations where those radios don't work." EW
Visit EquipmentWorld.com/info