Sponsored Information Section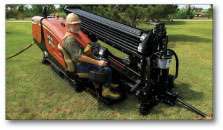 Drill enables fast performance in HDD jobs
Perform a wide range of HDD jobs with Ditch Witch's JT1220 Mach 1 directional drill. The 60-horsepower unit enables the operator to consistently drill and backream with precision, and Mach 1 technology monitors and troubleshoots the system – controlling the ground drive, pipeloader and all drilling funcitons. An enclosed fluid pump system simplifies winterizing and a rack-and-pinion thrust system improves power transfer and performance.
Visit EquipmentWorld.com/info
Silent core blades cut without the high noise level
Husqvarna's F400E series silent core blades cut cured concrete with the low noise level of an electric saw. The F400E series for floor saws use steel cores made with "sandwich" technology, which prevents harmonics and vibrations. Designed for medium-to-high horsepower saws, blades come in threegrades of bond harVr wet cutting of cured concrete.
Visit EquipmentWorld.com/info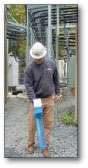 Locator delivers accuracy to 30 feet
McLaughlin's Verifier G2 locator ensures accuracy in line location and depth calculation. The G2 uses "Smart" transmitter technology with improved noise reduction, and has peak and null locating modes and four active frequencies. The Verifier features a depth capacity to 30 feet.
Visit EquipmentWorld.com/info