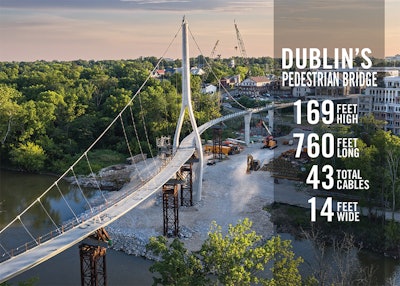 It's been named the Dublin Link, and it's the only bridge like it in the world, says the town of Dublin, Ohio.
The S-shaped suspension bridge features a 169-foot tower and 43 cables. It opened March 17, and the town claims it's not only the longest single-span, single-tower, S-shaped suspension bridge in the world – it's the only single-span, single-tower, S-shaped suspension bridge in the world.
The 760-foot-long pedestrian bridge, which officially opened March 17, is designed as a signature feature of an ongoing revitalization project for the historic district to take walkers and cyclists across the Scioto River.
Construction on the $22.6 million bridge began in 2017. It is part of $120 million worth of projects the town has planned, including a new park on both sides of the river that the bridge will connect.
The 14-foot-wide bridge consists of four 65-foot approach spans that lead to a 500-foot-long suspension span. The deck passes through the 169-foot main tower.
The main and hanger suspension cables were fabricated in Milano, Italy, according to the town, and cables were tested in Braunschweig and Bochum, Germany. The structural steel was fabricated in Tampa, Florida.
Kokosing Construction of Ohio was the contractor for the project. The architect was endrestudio of California, and the engineer was T.Y.Lin International of San Francisco.
Check out the town's time-lapse video of the bridge's construction below: