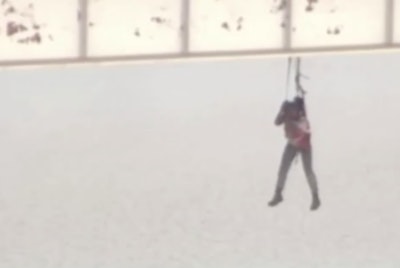 A Texas Department of Transportation subcontractor had to be rescued after he fell while working under the Houston Slip Channel Bridge and was left dangling below.
According to KPRC in Houston, Rex Godsey was doing maintenance work when he slipped and fell October 7. Still attached to his safety harness, he dangled 175 feet above the Houston Slip Channel for an almost an hour before he was rescued by the Houston Fire Department.
"I was on the catwalk, and I tied off initially, and I was going to replace the cable. When I went over this catwalk, I kind of lost my footing and from there I went to swinging on a bridge," Godsey said. "… The whole time I was thinking about my wife and how badly I wanted a beer when I got out of the hospital."
Members of the Houston Fire Department's High Angle Rescue Team were able to rescue Godsey through a manhole cover in the bridge. According to KHOU, the department's ladder trucks and towers were too short to reach the man, but the manhole gave them access to pull him to safety.
"We were telling him to remain calm, to wiggle his feet, keep blood flowing to his legs and to rest assured that we were going to get him out of that situation," HFD Capt. Mario Gordon said. "… It's rewarding to know you made a difference in someone's life and that's what we're here for."
Godsey couldn't walk immediately after he was rescued, but he is expected to make a full recovery.