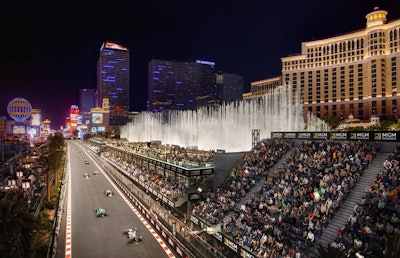 MGM Resorts
Work is rushing ahead to prepare the track, spectator and driver infrastructure for the upcoming Formula 1 Grand Prix in Las Vegas in which sections of The Strip are being torn up and rebuilt to meet the racing circuit's standards.
The Formula 1 Heineken Silver Las Vegas Grand Prix is set for November 16 to 18. The racetrack will be 3.8 miles long with 14 turns. Asphalt 5 to 10 inches deep is being removed from the road to be repaved with denser asphalt to handle cars racing at over 210 mph.
Las Vegas drivers have been enduring rolling lane closures along The Strip as construction, which started in April, continues on the track and venue. Track work is scheduled to be completed next month.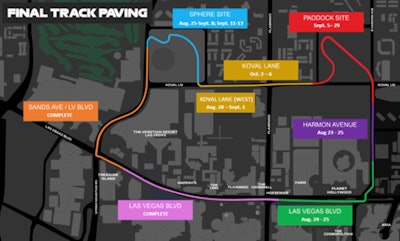 The track construction is estimated to cost about $80 million, and the Clark County Board of Commissioners has been asked to put up half of that cost.
Construction also is occurring on the Paddock Building on Harmon Avenue and Koval Lane, which will serve as the hub for the race, as well as the start and end point. The facility includes pit lanes, grand stands and luxury hospitality offerings.
The Paddock Building is three stories high, 1,000 feet long and 100 feet wide. Las Vegas Grand Prix says it is the largest paddock building on the Formula 1 calendar. Formula 1 also has U.S. races in Austin, Texas, and Miami.
Miller Project Management is overseeing the project. The Penta Building Group is the lead contractor on the paddock construction.
Las Vegas Paving Corporation has been building the track, which includes parts of Las Vegas Boulevard. Drivers will zoom past many of the busiest resorts on The Strip as well as the new Sphere, which is set to open later this month.
The race is scheduled to be held annually in Las Vegas for the next 10 years. Organizers say the track will last six years before it needs repaving.
Four-lane temporary bridges are being built over the racetrack for emergency and other vehicles, buses and pedestrians. The bridges, similar to overpasses, are being built to highway standards.
Overall costs for building the track and facilities are still being calculated and have risen higher than expected. Liberty Media of Denver, Colorado, which owns Las Vegas Grand Prix said about a month ago that capital expenditures could rise as high as $400 million.
Race organizers say the race will bring in $1.2 billion in revenue in the first year.
Check out the video below from Formula 1 Heineken Silver Las Vegas Grand Prix to see a simulated first lap: