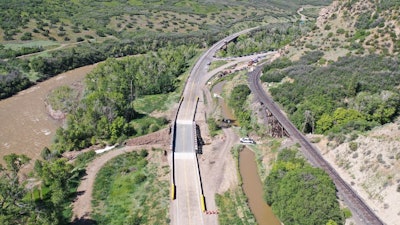 Ralph L. Wadsworth Construction
A modular steel bridge was recently installed on Colorado State Highway 133 so travelers could continue on the route during repair of a damaged culvert and section of highway in the North Fork Valley area.
Manufactured by Acrow, the company's Mabey Universal panel bridge is located between the small towns of Paonia and Somerset in the state's Western Slope.
Need for the bridge arose after heavy snow buildup on the Western Slope led to higher-than-average spring runoff, resulting in many rivers and creeks running higher and faster than usual. Seven miles northeast of Paonia, Bear Creek's rushing waters collapsed a culvert beneath Highway 133, leaving a deep, impassable crevasse more than 20 feet across.
Closure of the highway in May had an immediate impact on residents and businesses. Due to topography, the region's economy is transportation dependent with a combination of agriculture, ranching and mining.
In addition, the sparsely populated area of the Western Slope is reliant on summer tourists to boost the economy at the wineries, restaurants, and shops.
Some vehicles such as first responders, Somerset residents and those making critical deliveries were allowed to pass around the damage. Any other travelers were forced to take a four-hour detour of nearly 200 miles.
The Colorado Department of Transportation contacted Acrow and put the job out for an emergency bid. Ralph L. Wadsworth Construction was awarded the contract to install the rented Acrow-designed structure.
The bridge is 103 feet long and has a curb-to-curb width of 30 feet to enable two-way traffic. It is designed to AASHTO HL-93 standards and has an anti-skid epoxy coated deck.
Installed in two weeks, the bridge is expected to remain in place until repairs are completed, now anticipated to be in November.