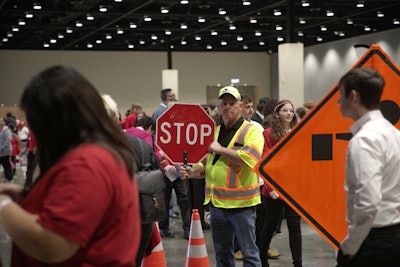 Work Zone Safe
Oklahoma has become the first state to require a work zone safety course for new teen drivers.
The law takes effect November 1, requiring the free course offered by the Oklahoma Department of Transportation for those 16 and older who are applying for an intermediate driver's license, according to the legislation that was passed and signed this year.
The new requirement follows concerns about an increase in work zone crashes, as motorists continue to ignore speed limits and use cellphones while driving through work zones, endangering workers, themselves and other drivers. It also covers the state's Move Over law, designed to protect roadside workers and first responders, by requiring drivers to change to outside lanes to give them more room.
U.S. Transportation Secretary Pete Buttigieg has said the country faces a "national crisis of fatalities and serious injuries on our roadways."
Despite that, "particularly when it relates to work zones, we have done nothing in the United States to address how we educate and engage particularly our young drivers," said Tom Robins, founder of workzonesafe.com, during a recent webinar by the Associated General Contractors of America.
"And here's another cold hard fact. We have flooded our roadways with 'digitally drunk drivers.' And they're learning that behavior when they are young. And they are bringing that behavior with them in the car. And that travels with them either as a passenger or as a driver. And it's showing up in our work zones."
Robins spearheaded the effort to create the 30-minute course at workzonesafe.com. So far, it has only been voluntary, but 3,000 Oklahoma students have completed it. The effort has also involved setting up mobile work zones to show students what it's like for workers. At the events, they also hear about first responders and workers who have lost their lives, as well as from teens whose parents have died in work zone crashes.
The program seeks to put a "face behind the flag," so teen drivers will think about the consequences of not obeying safety laws in work zones.
Before the program started, Oklahoma was following a similar practice as other states when it came to teaching teens about work zone safety, Robins says. "They're being handed a plastic bag with a cartoon character on it about distraction, a plastic pen, and a pamphlet with the legal definition of the state's move-over and work zone safety laws.
"Quite frankly, this wasn't working."
Robins teamed up with the Association of Oklahoma General Contractors, other organizations and ODOT to develop a program to better engage teens. They came up with a hands-on and digital approach to better accommodate teenagers' learning styles.
The hands-on approach involves teaching teens, who are often scared when first driving in work zones, how to handle them safely and confidently. Using the mobile work zones, the students learn firsthand from the workers what to do.
"The eyes were opened of these teens as they met these workers," Robins said. "And these workers walked them through a work zone and explained to them what they were seeing, how they should respond."
"We came up with something very simple," he adds. "When it comes to a work zone, you need to have 'eyes up, phone down, buckled up and slow down, work zone safe.'"
In the past year, over 20 mobile work zone events were held, educating 15,000 new teen drivers, he said.
For the online course, which was created with a curriculum director, students go through various sections on safety, and each section presents a personal story of how a teen or someone in the community was affected by a work zone death.
"The most important part of this section is 'face behind the flag,' where for the first time they're introduced to somebody who is a teen, their peer, who got a knock on the door that said that their dad, who left simply to go to work to provide for their family who they loved, would no longer be coming home," Robins said.
The website has also set up an incentive for teens to take the course voluntarily, and not just Oklahoma residents. Those who take the course, regardless of what state they live in, are eligible for a chance to win a college scholarship through the American Traffic Safety Services Foundation.
"For far too long, we have just given scholarships to kids whose parents aren't coming home or were permanently injured," Robins said. "We decided to flip that on its head. …
"We decided early on to recognize and reward teen drivers who are willing to take the work zone safety course by offering $500 educational scholarships that we reward in our gratitude for them being work zone safe."
So far, the program has given out 20 scholarships in Oklahoma, and now the national scholarship program is being offered for taking the course. The goal is to expand the program to every state and in Canada.
"We need to change our approach," Robins says. "We no longer can accept that we as an industry will just decide that we need to order new monuments and put out new names and gather every single year. We need to demand that our states modernize education and engagement for particularly our young, teen drivers."
The effort has also received the backing of the AGC. During its webinar, it released results from its latest contractor survey that showed 97% of contractors reported that highway work zones are either as dangerous, or more dangerous, than they were a year ago. (Stay tuned to equipmentworld.com for more reporting on the survey.)
"That's why AGC of America is calling on every state to do more to make our highway work zones safer," said AGC Chief Economist Ken Simonson. "We're urging every state to follow Oklahoma's lead and require new drivers to learn about work zone safety."