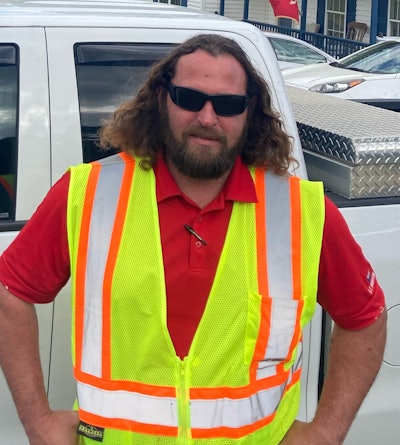 S.T. Wooten
A North Carolina road contractor is mourning the loss of an asphalt superintendent who was killed April 3 when a driver crashed into the company's nighttime work zone on Interstate 40.
S.T. Wooten Asphalt Superintendent C.J. Bryant, 33, was working on the I-40 expansion and upgrade project near Exit 303 at Jones Sausage Road in Garner at 3:20 a.m. when an SUV driver came crashing into the work zone. The SUV entered the zone, which was designated by orange barrels, struck equipment and hit Bryant, according to news reports.
After the crash, the driver of the SUV, identified by police as 20-year-old Jeyson Alexander Murcia-Guillen of Smithfield, ran from the scene. He was later arrested on charges of felony death by vehicle, felony hit-and-run, driving after consuming, no operator's license, resisting an officer, fictitious registration and operating a vehicle with no liability insurance, among other charges.
Bryant leaves behind four children and his fiancée of 16 years. According to S.T. Wooten, which is based in Wilson, N.C., Bryant had worked for the company for six years, starting as a foreman. He worked on several large projects in the state, including I-795, U.S. 70 and another section of I-40 in Sampson County.
"He quickly became known for keeping his jobs ahead of schedule and always working to improve," says a company post on Facebook.
Bryant was promoted to asphalt superintendent in 2021. He began overseeing multiple jobs, but still loved to be out with the paving crews and co-workers, the post says.
The I-40 project Bryant was working on began in 2018 and involves adding two lanes on each side for 13 miles of the busy interstate, which handles rush-hour traffic in the Raleigh area. The project is expected to be completed in 2024.
The project had just recently hit a major milestone five days before the incident, opening all lanes from the I-40/440 split to the U.S. 70 Bypass.
Bryant also earned praise in 2021 for his and his asphalt crew's work to complete 17 miles of U.S. 264 in Pitt County two weeks ahead of schedule.
The S.T. Wooten post says the company is heartbroken over the loss. A former employee of the company has set up a GoFundMe online fundraiser for Bryant's four children and fiancée. It has a goal of raising $100,000 and so far has $35,810.
"While I know that S.T. Wooten is providing for the family, the impact of this loss is extensive, and I wanted to be able to help CJ's family in my own way," writes Butch Lawter, who is organizing the fundraiser. "I worked at S.T. Wooten for 17 years, and it truly is a family that I'm still proud to be part of."
The death comes six weeks after six highway workers were killed when a driver crashed into a work zone on I-695 near Baltimore, Maryland. From April 17-21, the construction industry put the spotlight on roadside worker safety during National Work Zone Awareness Week.
According to the National Work Zone Safety website, fatal work zone crashes have risen 46% between 2010 and 2020. There were 774 fatal work zone crashes in 2020, killing 857 people. Of those, 117 were workers.
On its Facebook post for Bryant, S.T. Wooten asked that people keep "his friends and family, C.J.'s crew, and all our employees in your thoughts and prayers."
"Please slow down around work zones," it adds, "and don't drive impaired."