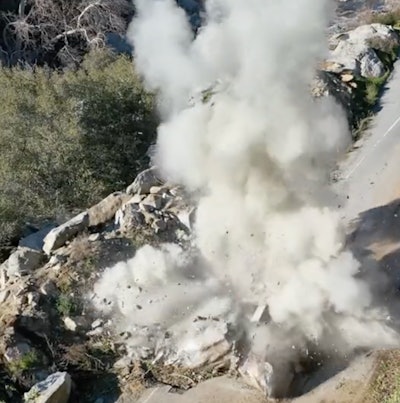 Caltrans District 6
The California Department of Transportation has had a hectic winter, jumping from disaster to disaster to try to clear roads.
Mudslides, snowstorms and flooding have wreaked havoc throughout the state because of atmospheric rivers dumping historic amounts of precipitation. It's also meant lots of work for the Caltrans District 6 Blasting Crew, which recently released this video of its removal of a boulder that fell during a rockslide March 1 at Kern Canyon and blocked State Route 178:
The boulder was blasted, all debris removed and the road reopened March 3. But the highway at Kern Canyon has since been closed again, with the blast crew being called into action March 16 after two large boulders hit the road March 15, one of which crashed into a car. No one was injured.
Following the blast March 3, the highway has been closed four times in the past week because of mudslides caused by drenching rains and falling boulders, reports Bakersfield.com.
On March 16, Caltrans District 6 said crews removed all but one of the large boulders blocking the road. The blasting crew was scheduled to return March 17 to explode the remaining boulder so repairs could be made.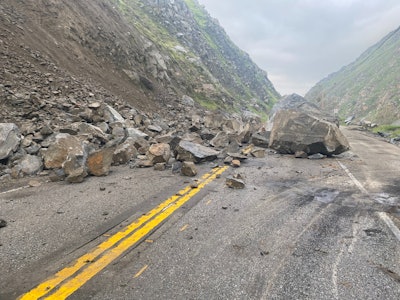 Caltrans District 6 builds and maintains state highways in Fresno, Madera, Kings, Tulare and Kern counties. The rockslides on SR 178 were not the only emergencies the agency has been responding to. Throughout the district, roads have been closed due to mudslides and flooding.
The district, along with other areas of California, was preparing for more extreme weather. The agency reported March 17:
"Cumulative impacts from atmospheric rivers are still affecting California with another storm system forecasted for early in the week of March 19. The next storm is expected to bring snow, rain and wind that will continue to threaten urban, river and flash flooding; rockslides; landslides; and road closures."