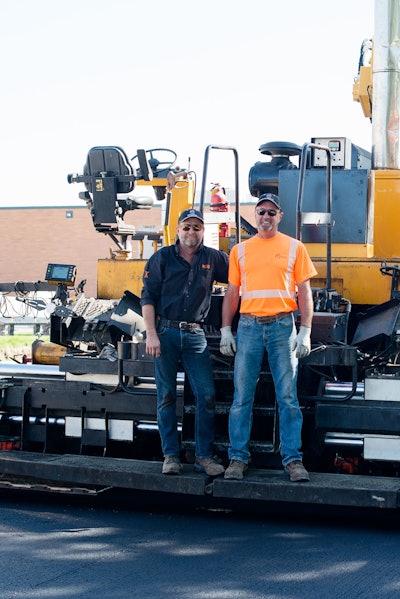 Equipment World file photo
Two inventions that some believe will be the most significant innovations for the asphalt screed in almost a century will be available through Caterpillar, thanks to two brothers who run a family-owned paving business in Wyoming.
Stuart and Michael Frost have been on asphalt paving crews since they were kids and have owned highway paving company Mountain Construction in Powell for more than 20 years. They had always dreamed of a better screed – one that would achieve higher mat density and enable easier and faster plate changes.
After much trial and error and tinkering in an old airplane hangar, they reached a breakthrough in December 2018 that led to inventing two products that achieved both goals. They began to produce and test the inventions through their new company Axenox.
They gained a large following on social media that was astonished by the results. No footprint indentions appeared while walking on the mat behind the screed, and their screed plates could be changed in just hours instead of a day or more. (To see the inventions in action, check out the video at the end of this story.)
Almost four years later and a million tons of asphalt paved, they scored a deal with Caterpillar.
Cat announced in November that it would purchase the intellectual property rights to Axenox's Oxclaw textured screed plates and Bullox modular screed plate attachment system. The products will be offered exclusively through its dealer network at a date to be announced later.
Nate Just, Cat's global marketing manager of paving products, calls the inventions the solution to problems that have beset the asphalt paving industry throughout its history.
"I don't think it's an exaggeration to say this may be the most significant change to an asphalt screed since Barber-Greene invented the free-floating screed nearly 90 years ago," he says.
"We as an industry have been chasing problems with density, segregation and smoothness throughout the paving train … This technology affects stiffness and density where we have the greatest opportunity – as the asphalt mix is getting placed under the screed itself."
Reimagining the screed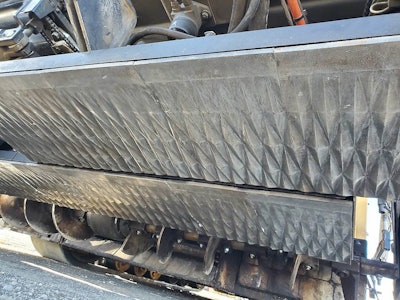 Stuart and Michael Frost's breakthrough occurred when they came up with a sine wave concept instead of a flat screed plate. The waves would allow asphalt to travel down through a gradually widening channel to add lateral movement to the asphalt placement instead of just vertical downward pressure.
To integrate the three-dimensional pattern, they had to cast the plates. That allowed them to experiment with materials more wear-resistant than steel. They used a 26% chromium carbide cast.
In figuring out how to attach their new plates, they replaced the existing screed plate with what they call a "conductor plate" for the new screed plates to lock onto. The conductor plate stays fixed on the screed, and the Oxclaw screed plates are added in sections and held in place by a high-temperature silicone cord that is stretched and slipped into a taper lock on the back.
The plates can then be added and removed much faster. The system cut plate-change times by 80% – from one to two days to less than four hours.
And the new screed plates were achieving densities as high as 85% to 89% before the compactors came out. What's more, when workers walked across the fresh mat directly behind the screed, no footprints indentions appeared.
The kneading action of the screed provided a stable mat, and the aggregate was finding its place right at the screed. The rollers just had to press the mat down to compact it. That meant less compaction action needed, and the longitudinal joint stayed contained and straight and had better density.
"The mat is much more stable, allowing us to get more density while still hot with less shoving and check cracking," Stuart Frost told Equipment World back in 2020.
They could also pave at normal speed, unlike tamper bar screeds that require slower paving. They and other contractors reported they were consistently getting bonuses for hitting density goals on projects and winning smoothness awards.
"I think we've got a solution to not only keep us in the bonus the entire time, but it could potentially be the new way of paving," said Brent Carron, vice president of Valley Paving in Shakopee, Minnesota, in 2020 after using the Axenox products.
Cat comes to visit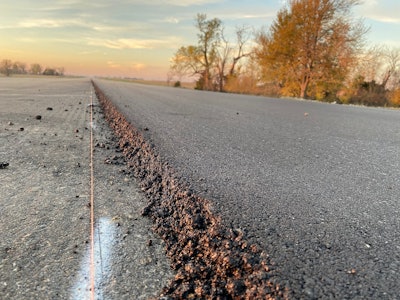 Stuart and Michael Frost tested their inventions on state DOT and FHWA projects, as did other contractors, and kept getting the same high asphalt density readings directly behind the screed.
Other benefits they said they noticed:
Reduced thermal and linear segregation issues.
More uniform surface textures.
Less reflective rutting and bumps from underlying defects leading to fewer "must grinds.''
More uniform screed plate heat across the surface.
Longer screed plate life.
Higher densities behind breakdown rollers, with no check cracking.
They decided to approach Caterpillar to see if it would be interested in Oxclaw and Bullox.
"Stuart and Michael Frost approached Caterpillar with their idea, and it immediately piqued our interest," says Just. "However, it was when we first visited a job site to see it in action that we recognized the significance of the benefits to mat stiffness, density, texture and smoothness."
Cat's paving experts were impressed.
"To a casual observer or a seasoned asphalt pro alike, it is immediately obvious that something is different behind the screed," Just says. "Footprints don't leave an indentation. Rollers don't push and shove the mat on the first pass. Unconfined joints hold up under a breakdown roller with very little lateral movement. The screed is running quieter as more of the vibration energy is directed into the mat."
And then there were the better density and international roughness index (IRI) measurements. Such results can help contractors achieve required goals on projects, as well as help them make more money on projects that offer performance bonuses.
What's next?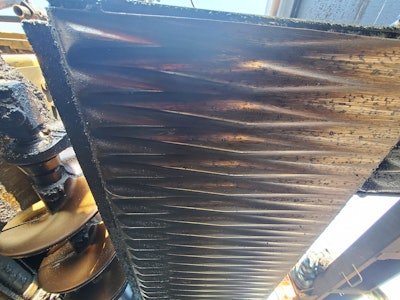 Since announcing the Axenox deal to purchase intellectual property rights, Caterpillar has been been putting Oxclaw and Bullox through its product development process to ensure quality standards and to develop after-sales customer support, according to Just.
They will be developed exclusively for Cat pavers and screeds and will be sold through its dealers. Caterpillar has declined to reveal the details of the Axenox deal. It plans to announce dates for the products' commercial sale later.
Just calls the products "an exceptionally well-developed proof of concept."
"We are working now on picking up where Michael and Stuart left off," he adds.
As for Michael and Stuart Frost, the brothers say they are excited about the Cat deal and believe the products will revolutionize the asphalt paving industry as well as open up new possibilities. The screed plates are versatile and can be used for thin or thick asphalt placement. They can also reduce other headaches involved with paving. "The possibility of laying a single 4-inch lift instead of two 2-inch lifts could save equipment mobilization, reduce tacking efforts, traffic control issues and of course taxpayer money," Frost says.
With their inventions now in Caterpillar's hands, the brothers foresee a bright future for the products, thanks to the company's experience, quality standards and large dealer network.
"Having Caterpillar take this product to market will allow a much larger customer base to make use of these technologies much sooner than we could anticipate, due to their vast coverage and industry knowledge."
As to the future, the Frost brothers say they plan to keep inventing new products to help their fellow contractors:
"We are continuing to develop some exciting new things for the paving industry as well as other sectors."
Check out the brothers' inventions in action in the video below: