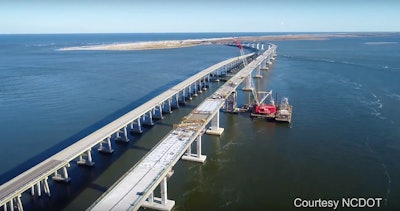 NCDOT
The investigation into a worker's death on a bridge demolition project at the Outer Banks of North Carolina has resulted in a proposed penalty of $23,210 for the contractor.
PCL Civil Constructors, based in Tampa, Florida, overloaded bridge sections, exposed workers to struck-by hazards and failed to use engineering surveys or calculations to prevent collapse, according to the U.S. Occupational Safety and Health Administration.
Jose Armando Maqueda Mejia, 42, of Manns Harbor, North Carolina, died April 14 after he fell more than 50 feet into the Oregon Inlet when a remaining section of the Herbert C. Bonner Bridge bridge collapsed. The bridge was built in 1963 and was being demolished piecemeal after the new Marc Basnight Bridge opened in 2019 as its replacement.
Mejia, a welder, was cutting crossbeams on top of a bridge section where concrete had been discarded, OSHA says. The weight of the concrete caused the section's collapse and Mejia's fall, the agency reports.
According to the OSHA citation, PCL used "different demolition sequences, and developed its own plan, without performing any engineering surveys and calculations to determine the adequacy of the structure and the potential for unplanned collapse of any portion of the structure during demolition." It added that workers "were exposed to struck-by hazards."
The citation also said the structural members of the bridge's last two spans "were overloaded beyond their load-carrying capacities."
The two violations are deemed "serious" by OSHA, which means a hazard exists that could cause an accident that would most likely result in death or serious harm.
"PCL Civil Constructors violated federal safety standards and a worker needlessly died as a result," said OSHA Area Director Kimberley Morton in Raleigh. "If they had followed well-known standards, this tragic loss of life could have been prevented."
PCL won the $252 million contract to build the 2.8-mile Marc Basnight Bridge to and from Hatteras Island and to demolish the Bonner Bridge.
A PCL spokesperson said the citation is under review, and its policy is not to comment while it is still pending.
The company can request an informal conference with OSHA within 15 working days to contest the proposed penalty.