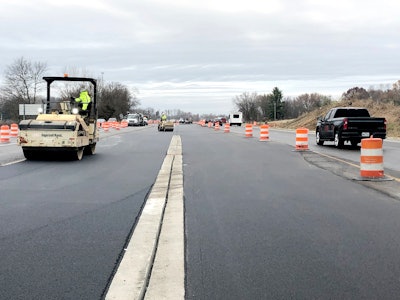 Photo credit: I-69 Finish Line
The final two contracts, totaling more than $1 billion, have been awarded to complete the extension of Interstate 69 in Indiana to provide a southwest connection for the state.
The 27-mile final section will connect Martinsville and Indianapolis, with completion expected in 2024, according to the Indiana Department of Transportation.
The state's overall I-69 construction project, which began in 2008, will provide 142 miles of multi-lane highway from Evansville to Indianapolis, where it links with I-465.
Contracts were awarded to:
$345 million to a joint venture of Reith Riley and Crider and Crider for I-69 from Morgan Street in Morgan County to Fairview Road in Johnson County.
$728 million to a joint venture of Walsh Construction and Milestone Contractors for I-69 from Fairview Road in Johnson County to I-465 in Indianapolis. The contract will also add lanes and make improvements on I-465 between I-65 and I-70 in southwest Indianapolis.
State DOT officials say the project will "result in 1,300 fewer crashes annually in the region and generate $4.1 billion in economic impact over the next 20 years."
It will also eliminate 14 stoplights between Martinsville and I-465. Other project highlights include 35 lane miles of local access roads, 39 new bridges and 35 bridge rehabilitation projects.
"Building this final I-69 section will fully deliver on a vision to better connect our state and further strengthen Indiana's position as the Crossroads of America," said Gov. Eric Holcomb.
Construction on Indiana's final stretch of I-69 began in 2019. When completed, it will provide a link from Evansville to the Canadian border at Port Huron, Michigan.
Gov. Holcomb recently announced plans to work with Kentucky on a new I-69 four-laned toll bridge over the Ohio River between the two states.