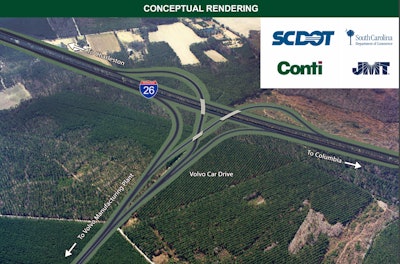 The South Carolina Department of Transportation (SCDOT) has awarded an Interstate 26 interchange project, which will connect the interstate to the main drive at a $500 million Volvo car plant, to Conti Enterprises.
The project is valued at $44 million and will connect I-26 to the main drive leading to the manufacturing facility.
"Volvo recognized South Carolina's favorable business climate in selecting this location which includes an existing interstate highway and proximity to the Port of Charleston," says South Carolina Secretary of Transportation Christy Hall. "The construction of this interchange is an important step in providing an interconnected system for driving the state's economic engine."
SCDOT reports Conti Enterprises and its lead design firm Johnson, Mirmiran & Thompson (JMT) will deliver the project "in an accelerated fashion" using the design-build approach. The department says JMT will finalize the design over the next few months. The interchange is expected to be complete by later winter/early spring of 2019.