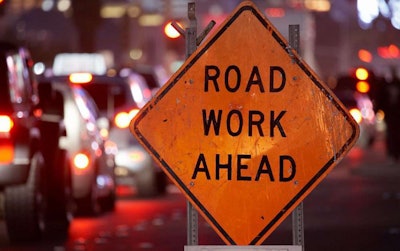 A team of seven sign fabricators at the Washington State Department of Transportation's (WSDOT) regional headquarters in Union Gap is responsible for creating all the signs for the DOT, as well as signs for other government agencies and some outside entities, Yakima Herald.com reports. Every year, the fabricators create approximately 100,000 square feet of signage at a cost of close to $1 million.
"Everything we do is one-of-a-kind for across the state — or two of a kind," Dave Fernald, the sign shop supervisor, told the news agency, adding that November had been an especially busy month. "We were behind in a hurry."
Fernald explained that the sign shop is designed sort of like a nonprofit business. "What we charge is what it costs for the taxpayer to make that sign," Fernald told the news agency. "We don't charge a profit."
The benefit of the DOT having a sign shop is the flexibility it provides for a wide variety of custom orders. "These guys take a raw piece of aluminum, and they do everything to that piece all the way out the door, until it's shipped," he told the news agency.
Fabricator Troy Woody has been working at the sign shop for about six months, paying attention to his senior colleagues and learning the finer points of sign-making. "It takes a lot of practice," he told the news agency. "It's not as easy as it looks."
Transportation signage has a 787-page DOT manual that governs everything from dimensions, colors and letter size for dozens of types of signs. The signs are meant to last 15 to 20 years if left alone, but of course, some are struck down by vehicles and others are used for target practice. Sign theft was once a big issue, but not so much now.
"We're proud of the asset we are to the state Department of Transportation," Fernald told the news agency.