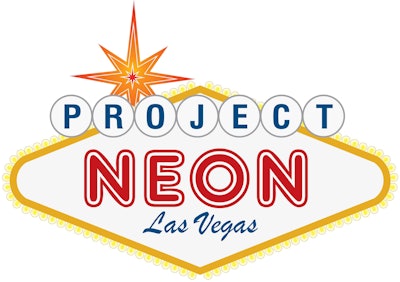 Nevada Department of Transportation (NDOT) right-of-way purchases for the Project Neon Interstate 15 widening project has created a series of vacant buildings in which the agency is allowing federal law enforcement officials to use as training site.
"They have smashed windows, blown doors, and busted through walls in order to simulate a real engagement," says NDOT Director Rudy Malfabon. "The partnership has provided invaluable field experience that can make the difference between life and death for our brave members of law enforcement."
The buildings will be available for use until they need to be demolished. NDOT reports it has demolished 12 buildings so far and much of the material coming from the buildings is being recycled and reused. Each building takes about three hours for the agency to demolish.
Project Neon, which broke ground in April, is the largest public works project in the history of the state. The total investment for the project is close to $1 billion and agency officials say it will create 4,000 "high-paying" local jobs.
The project involves widening 3.7 miles of I-15 between the "Spaghetti Bowl" interchange in downtown Las Vegas to Sahara Ave. The corridor has 300,000 vehicles traveling through it each day and sees an estimated 25,000 lane changes per hour. NDOT officials expect traffic on this stretch of highway to double by 2035. Project completion is estimated for summer 2019.