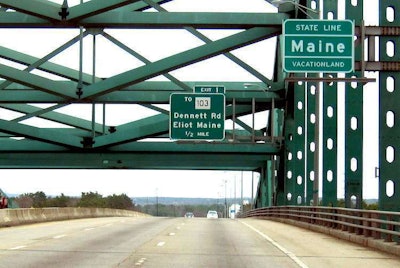 The Maine Department of Transportation (MaineDOT) has received a $7.7 million FASTLANE grant to be used for the Maine Intermodal Port Productivity Project (MIPPP) in infrastructure improvements to the International Marine Terminal (IMT) in Portland.
Officials estimate the MIPPP will cost $15.4 million and funds from the state and private sector will match the FASTLANE grant funds. Work on the project will involve adding rail capacity, improvements to gate operations, purchasing a new crane and moving the current maintenance facility from the pier, in addition to expansion of the pier area.
MaineDOT says container traffic at the IMT has recently been increased by more than 20 percent each year. The agency expects the expansion will help alleviate traffic on the roadways in the state due to anticipated increased in rail and vessel activity.
"These funds will allow us to make strategic investments to build capacity, realize efficiencies and increase productivity at the IMT in Portland and enable the terminal to fully realize its potential through the improved utilization of all of its transportation assets," says MaineDOT Commissioner David Bernhardt.
The FASTLANE (Fostering Advancement in Shipping and Transportation for the Long-term Achievement of National Efficiencies) program was made possible by a provision in the FAST Act called the Nationally Significant Freight and Highway Projects program. This is designed to fund both small and large projects based on size and meeting certain requirements, and is authorized for $4.5 billion through 2020.
"The IMT is undoubtedly one of Maine's greatest transportation success stories of this century," says Gov. Paul R. LePage. "The award of this FASTLANE grant will allow the MaineDOT and Maine Port Authority to continue our mission of advancing marine and rail facilities in support of economic development and enhance the global competitiveness of Maine businesses in New England and across the world."