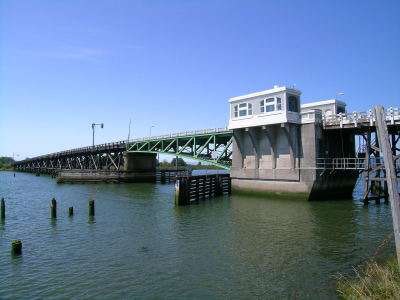 On May 24, the Oregon Department of Transportation (ODOT) unveiled an interpretive display on the western approach to the Lewis and Clark River Bridge to honor the craftsmanship of Conde B. McCullough, the state bridge engineer who designed 13 bridges along the Oregon Coast between 1919 and 1935, The Daily Astorian reports.
The state is in the midst of a three-year, $16 million refurbishment of the Lewis and Clark River (built in 1924) and Old Youngs Bay (built in 1921) bridges, which included a requirement to mitigate the impact on the historic structures.
"With the dedication of this interpretative center, we're celebrating our past, we're celebrating the present and we're going to be celebrating the future as well," state transportation Director Matthew Garrett told the news agency.
Students from Lewis and Clark Elementary School, and their parents, were present at the unveiling to show off a series of purposely rusted panels covered with historic drawings, biographical information and student poems and drawings about the meaning of the bridge to the young artisans, many of whom regularly cross the Old Youngs Bay Bridge in school buses on their way to school in the Lewis and Clark neighborhood.
Several of the children were chosen to read their poems to the audience. Fifth-grader Ashley Sisley's poem remarked on the simple utility of the spans. "Caring, reaching, growing, connecting, the Astoria bridges are never rejecting," she read at the unveiling. "Take you across from land to land, and soon you will go back over again."