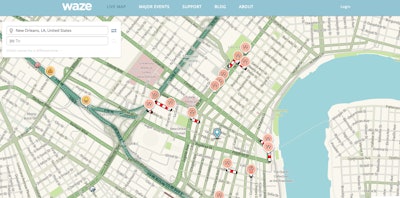 The Louisiana Department of Transportation and Development (Louisiana DOTD) and Baton Rouge City-Parish have partnered with the crowdsourced navigation app Waze and will contribute to the company's Connected Citizens Program.
Louisiana DOTD and Baton Rouge join several state DOTs sharing data with Waze, including California, Nebraska, Tennessee, Pennsylvania, Maine, New Hampshire and Vermont.
"This level of data sharing between Waze, DOTD and the City-Parish will play an important role for travelers throughout the state as DOTD continues to incorporate the latest technology into our Traffic Management Center," says Louisiana DOTD Secretary Shawn Wilson.
The agency and Baton Rouge officials will integrate Waze data streams into their respective traffic management systems and monitoring applications, including 511la.org.
"I firmly believe in the power of data and information which, when provided to citizens in a real-time manner such as this, will help travelers make more informed travel decisions and have a more enjoyable and safer commute," Wilson added. "Through this partnership we are taking the next step in our efforts to provide as much information as possible for the day-to-day commuter, travelers passing through our state and to those in need of real-time information during emergency situations such as flooding, winter storms and evacuations."
Waze says it has more than 53,000 active monthly users in New Orleans who drive collectively 9.76 million miles per month. In Baton Rouge, the company has more than 35,000 users who drive more than 7.2 million miles per month.
More details about the Waze Connected Citizens program are available at https://www.waze.com/ccp. The Waze app is free and available for iOS and Android platforms at https://www.waze.com/.