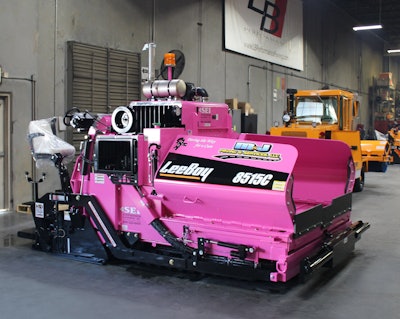 VT LeeBoy and equipment dealer Stephenson Equipment recently presented a $100,000 check to the American Cancer Society for it's Relay for Life, an amount raised in part by the use of a pink LeeBoy paver.
The pink paver, a modified 8515C, was the brainchild of LeeBoy Human Resources Generalist Tamara Helderman. She came up with the idea when looking at a custom green paver on the company's shop floor, thinking a "breast-cancer-pink" paver would help raise awareness and funds.
The company says word got out about the paver and the company received donations from "dozens of suppliers", with one company CFO writing a personal check for $5,000. Stephenson Equipment made the largest single donation.
LeeBoy has run internal fundraisers for the American Cancer Society's Relay For Life event in Lincolnton, North Carolina, since 2010. The company has come a long way from its first year when roughly $2,500 was raised.
The pink 8515C was first purchased by Stephenson Equipment, which then sold it to M&J Paving & Services in Mifflintown, Pennsylvania, where it will be put into service. "This paver will be around for years and this story will encourage others to donate to fight this dreaded disease," says Dennis Heller, president and CEO of Stephenson Equipment.