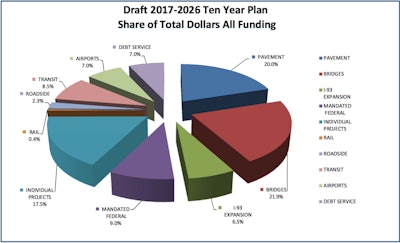 Gov. Maggie Hassan has submitted to the New Hampshire House Public Works and Highways Committee a 10-year Transportation Improvement Plan spanning 2017-2026 that would spend $3.74 billion for road, bridge, rail, transit and airport projects and improvements.
"A solid and modern transportation infrastructure is critical to the success of our people and businesses, and the Ten-Year Transportation Improvement Plan is an important opportunity to build on our bipartisan progress over the last several years," Hassan says. "This plan advances critical transportation goals while maintaining fiscal responsibility living within our projected revenues."
The 226-page document is available for download here.
Over the 10-year program, bridge projects would receive the most funding with $820.38 million dedicated, representing 21.9 percent of total funds. That's followed by pavement projects with $750.09 million (20 percent). Expansion efforts for I-93 alone will receive $244.45 million or 6.5 percent of the total.
The Federal Highway Administration represents of the bulk of program dollars, at $1.84 billion (49.2 percent), followed by turnpike improvement at $350.35 million (9.4 percent) and SB367 at $320.04 million (8.6 percent). TIFIA financing for I-93 represents 4.6 percent at $173.3 million.
By law in New Hampshire, Hassan had to submit her 10-year plan by Jan. 15 this year (it was submitted Jan. 14). It now moves on the state House of Representatives.
"We must continue working together to strengthen our transportation infrastructure, which will help set the foundation for long-term economic growth," Hassan says. "I look forward to continuing to work with the legislature to continue addressing our transportation challenges so that our people, businesses and communities can grow and thrive."