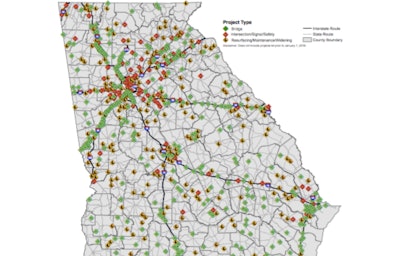 The Georgia Department of Transportation (GDOT), members of the general assembly and Governor Nathan Deal this week announced a long-term transportation project list valued at more than $12.2 billion dollars and spanning more than 10 years.
The plan was made possible, officials say, due to the state's comprehensivie Transportation Funding Act of 2015.
"Through the leadership of GDOT Commissioner Russell McMurry, Planning Director Jay Roberts and State Transportation Board Chairwoman Emily Dunn, we are delivering results for Georgians in every corner of the state," Deal says.
"In fact, for every dollar invested, Georgians will see four dollars in return. Over the next 18 months, nearly 60 percent of the projects contracted will be for maintenance of our roads and bridges. We are also upholding our promise of transparency through the GA Roads website, which provides clarity through features unprecedented in state history. This infrastructure investment will continue delivering dividends for years to come and keep Georgia a top destination for business and families."
The announced efforts cover an 18-month timeline of projects valued at $2.2 billion and a 10 year list of projects valued at $10 billion. McMurry says in that first set of projects GDOT will resurface roughly 2,500 miles of roads, replace more than 100 bridges and perform "critical rehabilitation" work on more than 300 bridges.
"Our first priority is to take care of the existing transportation system which is reflected in our vision for the next decade and beyond," McMurry adds. "Using the recent successes of the innovative Design Build and Finance method on the I-285/400 project and Northwest Corridor project as a blueprint, we will continue to deploy similar strategies to improve people and freight mobility throughout our state."
The value of bridge projects in the state this year is estimated at $247 million, with resurfacing work valued at $461 million and routine maintenance estimated at $447 million.