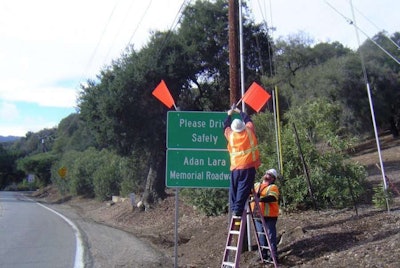 A California county has honored a road worker who was killed on the job in October by not only dedicating a section of the road to him, but also encouraging drivers to be more safe.
The Ventura County Star reported that memorial signs were installed in Oak View, California, last week in order to honor Ventura County Public Works employee Adan Lara. Lara was killed while directing traffic on Oct. 30 as road crews did work in preparation for El Nino storms.
The county named the 1.5-mile stretch of Creek Road the Adan Lara Memorial Roadway. The signs also asks drivers to "Please Drive Safely."
Lara had been working for Ventura County for 11 years at the public works department. And he's been missed, County Transportation Director Dave Fleisch said of the man who once was named resident of the year in his town of Ojai.
"In our holiday party we had for transportation, we had a ceremony to honor his service, and we miss him," Fleisch said. "… He was a pretty special individual."