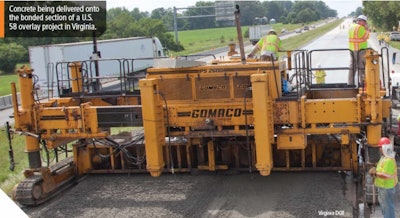 Today's roadbuilding environment requires more results from fewer resources, so extending pavement life is critical. One way to do this is with concrete overlays.
Conventional thinking has concrete overlays most suited for high volume, heavy truckload pavements, such as intersections and interchanges. In fact, it's been joked that intersection projects are the "gateway drug" for departments of transportation to adopt concrete overlays, primarily because the projects are relatively small and the results come quickly.
Concrete overlays have been used for more than 100 years, with more than 1,100 projects completed between 1901 and 2012, according to American Concrete Pavement Association figures. Projects have been completed in 45 states, and overlays make up 14 percent of the concrete paving market. In some regions of the country that figure represents more than half of the concrete pavements being placed.
The growing concrete overlay adoption rate can be attributed to two factors, according to Leif Wathne, ACPA vice president. One is a push by the association and its state chapters to educate transportation agencies about the efficacy of concrete overlays as a resurfacing option, a push that began roughly a decade ago. The other factor is price parity relative to other resurfacing options.
"We developed design methodologies and guide specifications, all aimed at helping people become comfortable with concrete overlays and honestly, dispel some of the myths, such as 'nobody has used it'," Wathne says.
The specifications he references include the "Guide Specifications for Concrete Overlays" published this September by the National Concrete Pavement Technology Center (cptechcenter.org) at Iowa State University's Institute for Transportation. The 32-page document offers guidance for developing specifications to meet the needs of overlay projects and covers details including the type of overlay to be used and the conditions in which they can be applied (see sidebar below).
Wathne says the concrete pavement industry's advocacy efforts in part were an attempt to neutralize concerns about using concrete overlays, and highlighting the success of past projects. "FHWA has had an overlay implementation program that's been helpful as well, so we're all kind of "singing off the same sheet of music" in talking about the opportunities with concrete pavements," Wathne adds.
Competition and price parity
There is a direct correlation between this thrust and the increase in concrete overlay use by transportation agencies, Wathne says, because it has shown another resurfacing option besides traditional asphalt overlays. "We want agencies to be aware that there's another solution out there. Even if the benefits of these solutions are identical, just having a competing industry adds pressure to the industries to be more mindful of cost effectiveness," he says.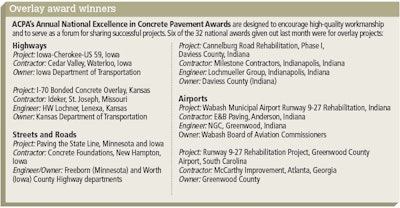 Wathne also points out that many municipalities look at their state DOT to make the first move in adopting new specifications and guidelines as well as materials. "When we talk across our chapters, the conversation we hear from counties is that they're waiting for the state," Wathne says, although some large municipalities may lead the way in adoption.
Even so, Wathne says that several county and municipal agencies that may not have traditionally looked at concrete overlays in the past 15 to 20 years are now starting to consider them for long-term project solutions.
"They're looking at projects with the mindset that they want to do projects that they don't have to come back to for longer periods of time. That's what they're planning on doing and they see that they have a long-term view," he adds.
Concrete pavement growth
Wathne says concrete pavers are recognizing that overlays are a huge market opportunity and represent the future of concrete.
"The vast majority of the network has been built, so we recognize that one of the more cost efficient ways, short of reconstructing, is using concrete overlays," he says.
And overlays have matured in several markets across the country. "Colorado has done a lot of great concrete overlays where they've taken existing roadways, whether they're asphalt, concrete or composites, and put concrete overlays on them. They are expecting to get another 25 years or more out of them."
States in the Midwest are also on the forefront of concrete overlay implementation. Five of ACPA's 2015 Annual National Excellence in Concrete Pavement Awards overlay winners (see sidebar, "Award winners") are in Midwest states.
One winning project, jointly located in Freeborn County, Minnesota and Worth County, Iowa, illustrates a collaborative effort of not only two counties, but two states, as well. The road runs roughly parallel to the state line, occasionally weaving in and out between the two states.
The project involved overlay work on 25 lane miles (two lanes at 12.5 miles) starting near the beginning of June 2014 and ending near the middle of July, according to Tom Schmitt, general manager of Construction Foundations, the firm that completed the job. He says overlay work is a big part of their business.
"Fifty to 60 percent of our work has been overlay projects, and I see it going even higher. There are only so many new roads that can be built, so the work is going to come from resurfacing," he says.
Schmitt echoes Wathne's view that education is vital to the growth of concrete overlay projects.
"Overlays have provided an alternative to other resurfacing options. The biggest challenge to overlays is getting the word out that it is an option for resurfacing and that concrete doesn't have to only be used for full replacement. There is a county engineer in Iowa that is increasing the depth of his overlay projects because he realizes he can get a longer-life pavement with them and there's no better time to do the work than when everything is set up. Concrete is the cheapest part of the job, anyway."