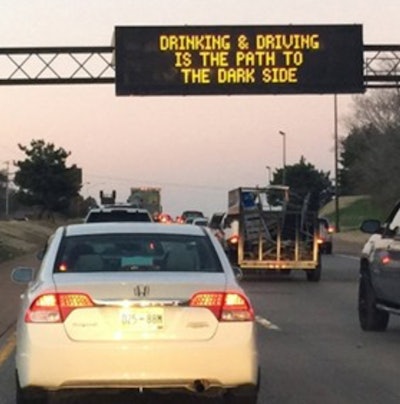 The Tennessee Department of Transportation (TDOT) is holding its annual contest for motorists and students to develop the best safety message for the dynamic message signs on the state's interstates. This is the first year the annual contest has allowed student submissions.
"Last year's contest was such a huge success," says TDOT Commissioner John Schroer. "We were amazed by the amount of creative submissions we received. Several schools expressed an interest in participating, and we're excited to extend an invitation to students, our future drivers, to help TDOT accomplish our goal of saving lives by getting the attention of drivers and reminding them to practice safe driving habits."
Beginning today (Jan. 19) entries can be submitted here. Five highway categories are available, including seatbelt usage, impaired driving, distracted driving, speeding, and aggressive driving. The contest runs through Feb. 2, with voting available Feb. 16 through March 1.
The winning entry last year was "Texting and driving, Oh cell no!"
TDOT says there are 190 DMS signs in the four urban areas of the state, including Chattanooga, Knoxville, Memphis and Nashville, in addition to rural areas. The agency also reports that in 2012 it became the first state DOT in the country to display roadway fatality numbers on the signs.