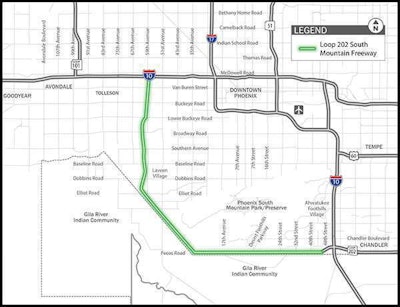 The Arizona Department of Transportation (ADOT) has selected Connect 202 Partners as the developer for the Loop 202 South Mountain Freeway, the state's first highway public-private partnership (P3) and the state's largest highway project to date. Construction is expected to begin this summer.
According to the Connect 202 website, the group consists of "Fluor, Granite, and Ames, together with leading highway maintenance services contractor, DBi Services."
The Loop 202 South Mountain Freeway is the last section of the Loop 202 system and will consist of three general-use lanes and one HOV lane in each direction. It also will be made using rubberized asphalt and is expected to be finished in 2020. The 22-mile highway will be a direct link between the West Valley and East Valley.
"While ADOT has successfully built and managed hundreds of miles of freeways in the Phoenix metropolitan area, following a public-private partnership path for the first time was an appropriate tool for the South Mountain Freeway," ADOT Director John Halikowski says. "ADOT will be able to complete this much-needed project sooner as a result, while increasing the likelihood of saving taxpayer dollars."
ADOT says this P3 will accelerate construction while at the same time reducing costs. The agency adds that a project this size would usually be divided in small projects, but the South Mountain Freeway will be completed as one project by one team. The project also involves 30 years of maintenance.
"The South Mountain Freeway is a critical piece of the MAG freeway program," says Scottsdale Mayor W.J. Lane, chair of the Maricopa Association of Governments Regional Council. "The freeway has been included in the voter-approved Regional Transportation Plan since 1985 and will provide improved mobility for residents in the MAG region. The design, construction and maintenance of the freeway by a private developer is a unique and innovative approach to delivering this important project."