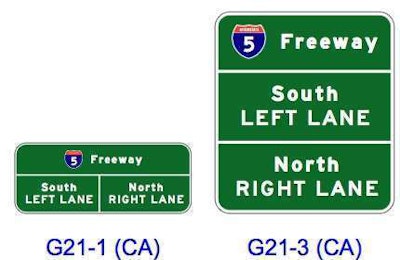 The California Department of Transportation (Caltrans) has selected three first place winners and one second place winner for its Innovation Contest. The contest was part of the "$25K Find a New Way" program signed into law by Governor Jerry Brown in 2014.
Officials said the contest was aimed at finding the "best unique idea with the highest likelihood of being successfully put into action" to improve the transportation system in the state.
The first place winners, who each will receive $7,000, include Mark H. Akin of Redwood Valley, Jordan Safine of Alamo and Ellen Atkins of Orange for their idea for early lane direction signs.
"By improving the advance information signs when approaching a freeway entrance and better indicating which lane—left or right—a motorist should be in, this idea can prevent last-minute lane changes, reducing gridlock, and make it easier for those unfamiliar with an area to plan ahead," Caltrans says of the concept.
"Sometimes the simplest solution is the best solution, and that is the case with our winning idea," says Caltrans Director Malcolm Dougherty. "We think this recommendation highlights the importance of Caltrans' responsibility to assist motorists in safely navigating the complex system of highways and freeways throughout California."
To work this idea into their system, Caltrans plans to develop statewide maintenance guidelines "to include clear indication of proper lane assignment at every freeway onramp (as demonstrated in the image mockups above). This effort will get a jump start to rapid deployment as Caltrans will incorporate it into the department's current sign replacement effort to install highly reflective signs to enhance visibility and reduce electricity and maintenance costs. The cost of implementation is expected to be absorbable within the existing sign-replacement program."
Second place winner Anita Weaver of Glendale, will receive $4,000 for her idea of an online travel app, dubbed Caltrans Freeway League (CFL), aimed at encouraging Californians to "voluntarily monitor and modify their behavior to achieve safer and less congested commuting."
Weaver's concept for app includes allowing participants to score points for driving safe, shifting travel modes, driving during off-peak hours and/or choosing "actions that align with department goals of safety and sustainability."
Caltrans says it is looking at developing partnerships with tech firms who have worked with travel-information apps.
"Commuters increasingly rely on digital aids to get where they are going," added Dougherty. "This idea fits well with that trend, with the added focus on safety and mode shift that will benefit all users of California's transportation system."