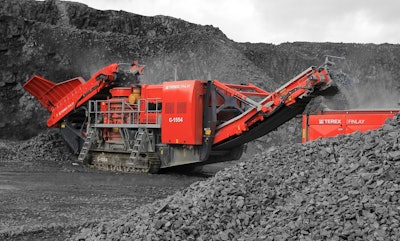 Terex Finlay has added the C-1554 cone crusher to its lineup of tracked mobile cone crushers, positioning it at the top end of its crusher range.
The new machine incorporates the Terex MVP450x crusher system that can accept an all in feed and offers direct variable speed clutch drive and hydraulic closed side setting (CSS) adjustment. Other features include the Rollbercone roller bearing design and the hydropneumatic tramp iron relief system.
The C-1554 has a large hopper/feeder with automated metal dection and a purge system designed to protect the cone and minimize downtime by removing metal contaminants via the purge chute.
"We knew that this new model would give be a game changer in terms of production capacity," says Alan Witherow, Terex|Finlay Product Development Manager. "The increased productivity, functionality and serviceability of the MVP450x chamber has consistently impressed operators of the machine during testing. The results have been outstanding and ultimately will deliver significant revenue streams and profitability for our customers."
Main features:
Fully Hydraulic CSS Adjustment with electronic monitoring system ensures ease of operation.
Fuel efficient direct drive transmission through wet clutch.
Hydraulic Tramp Relief System with automatic reset protects the chamber and minimises downtime.
Metal detection system on feed belt with 'auto-stop' protects the cone from tramp metal and the purge system removes contaminants from the machine.
Transport dimensions
Length: 55 feet 1 inch
Width: 9 feet 10 inches
Height: 12 feet 6 inches
Machine weight: 134, 482 pounds
Working dimensions
Length: 60 feet 8 inches
Width: 13 feet 9 inches
Height: 15 feet 11 inches