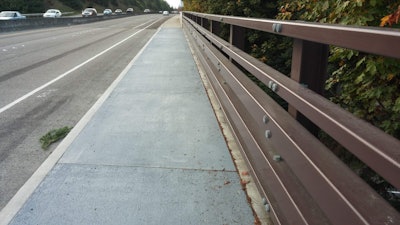 Composite Advantage's FiberSPAN FRP cantilever sidewalk system offers an option for expanding pedestrian and bicycle paths along bridges.
"Even if a vehicle bridge has a sidewalk, it's typically just 3 to 4 feet wide; too narrow to support the volume of bicycle and pedestrian traffic communities are seeing today," says Scott Reeve, president of Composite Advantage. "It's prohibitive to take additional space from vehicle lanes. Dead load weight limitations rule out 10-foot-wide concrete sidewalks and installing a separate bridge is costly."
FiberSPAN deck panels weigh between 4 and 9 pounds per square foot (psf), the company says, which is 20 percent lighter than reinforced concrete decking.
They can be connected via supports at piers for a small superstructure, or gussets that act as floor beams at diaphragms or trusses and railings attaching directly to the FRP decking.
The components are prefabricated to speed up the construction and cut down on costs.
During fabrication several features can be added, such as a non-slip wear surface, drainage scuppers, grating, curbs, light posts and electrical boxes. Composite Advantage says the sidewalk system consisting of stringers, deck and railing can weigh as little as 13 psf.