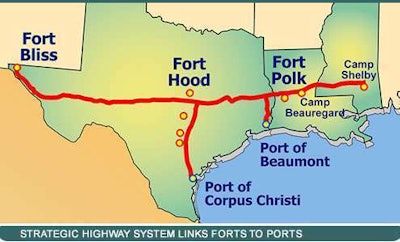 An amendment to the Fixing America's Surface Transportation (FAST) Act signed by President Obama in early December designates the Central Texas Corridor, or US 190, as the future I-14.
House Transportation Committee member Brian Babin (R-Texas), with help from Blake Farenthold (R-Texas), authored and introduced the amendment, while Senator John Cornyn (R-Texas) sponsored it.
"This major milestone in the improvement of transportation in Texas would not have been possible without the determined support of Senator Cornyn, Congressman Babin and Congressman Farenthold," says John Thompson, chairman of the Gulf Coast Strategic Highway Coalition (GCSHC).
The GCSHC reports it has been working for more than a decade on moving forward improvements completed on the highway that is a major artery between Fort Bliss, Fort Hood and Fort Polk and the Port of Corpus Christi and the Port of Beaumont.
A 25-mile section of US 190 in the Fort Hood-Killeen area is already at interstate highway standard, GCSHC says, and will be renamed I-14 once it undergoes a technical review that is approved by the Federal Highway Administration, American Association of Highway and Transportation Officials and the Texas Transportation Commission.
The coalition expects this process to be completed some time in 2016.
"There is a reason this interstate already has a nickname, 'Forts to Ports,' as it provides either direct or very close access for some of our country's most strategically important military and shipping assets," says Babin. "I was honored and proud to help lead this successful effort in designating the Central Texas Corridor as the first segment of what I truly believe will be America's next great highway, Interstate 14."
"Our highway transportation network in Texas plays a critical role in connecting military installations and communities, and I am pleased to have worked with members of the Texas delegation to add Interstate 14 and the Central Texas Corridor to the nation's roadmap," says Cornyn.