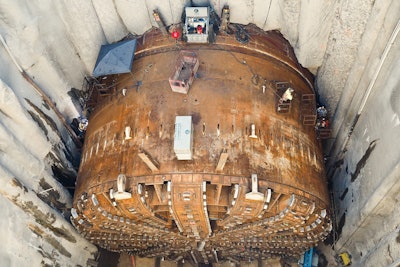 One of the last steps to getting Big Bertha back to boring beneath Seattle is underway.
The Washington State Department of Transportation announced October 14 Seattle Tunnel Partners would begin doing jet grouting in the soil to stabilize the ground above where the massive tunnel-boring machine is set get to work.
With jet grouting, a mix of water and cement is injected into the ground through a high-pressure pump to create an interlocking column from 20 feet below the surface to just above the tunnel route at 40 feet below.
The world's largest tunnel-boring machine shut down back in January 2014 when it became clogged with debris. It was about a tenth of the way into boring the 1.7-mile tunnel set to replace the Alaskan Way viaduct with a double-deck highway.
Bertha's huge cutter head was put back into the ground after repairs back in August in preparation for the drilling to resume, which is still scheduled for November 23.
Open-air testing of Bertha was scheduled to begin this week, but the Seattle Times reported that the testing hasn't yet begun.
WSDOT said STP and manufacturer Hitachi Zosen are still reconnecting machine parts needed to begin boring again.
A new video from WSDOT was posted this week detailing the repair, and can be seen at the bottom of this post. In it, STP Project Manager Chris Dixon talks about what the crew had to do in order for Bertha to begin boring again.
"We've had a lot of extremely talented and experienced people involved in this repair effort. So I'm looking forward to getting through this next phase, and resuming the tunneling and successfully completing the the tunnel drive," Dixon said in the video.
Big Bertha took a hit earlier this year and set back construction on the tunnel when crews discovered what they previously thought was minor damage was much worse than anticipated.
STP found in May the steel casing around the machine's cutterhead seals broke apart and sent fragments into the drive gears. It took 86 tons of reinforcing plates to get Bertha ready to bore again.
At about the same time that Bertha's head was being put back into the ground in August, the insurance companies filed a lawsuit to get out of the $143 million price tag. Eight insurers filed lawsuits that claimed the boring machine was "under dimensioned" to carve out the tunnel.
The suit also said that Hitachi Zosen experienced seal problems when Bertha was commissioned.