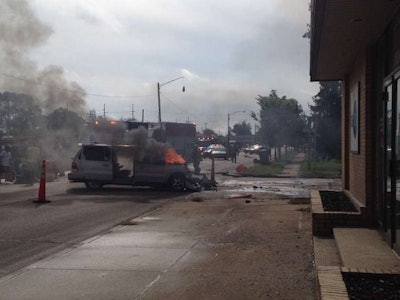 A van went up in flames in a construction zone after it crashed into another vehicle, construction equipment and a dump trunk in Elkhart, Indiana.
According to WSBT TV, six people were hurt after the silver minivan traveling at a high speed set off the chain reaction that ended with a scorched van.
After the van hit another passenger vehicle and a piece of construction equipment, it hit a dump truck and caused a diesel fuel leak. The van then caught fire.
The van's passengers were still inside when it started to burn, and passing motorists stopped to help pull those inside to safety.
Two people were seriously injured in the crash. Another four were taken to the hospital for non-life threatening injuries.