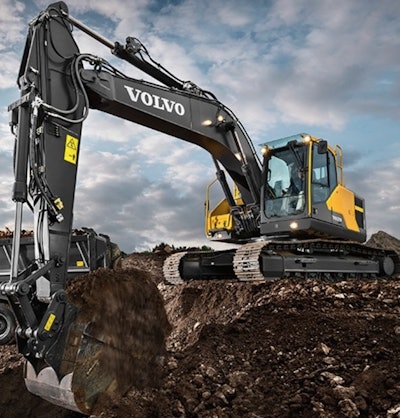 Volvo Construction Equipment has launched a replacement to its 22-ton D Series excavator, updating the machine with a Tier 4 Final engine, improved hydraulics and a new Eco mode.
The EC220E is powered by a Volvo D6J pushing 172 horsepower. Operating weights range between 45,350 and 55,360 pounds.
The newly optimized hydraulics system and Eco mode work together to tailor power to the application and Volvo has increased pump input power, making the machine more responsive. The machine also features boom float and fuel consumption is reduced through an auto engine shutdown feature that powers down the machine after it has been inactive for a pre-set period of time.
Volvo says the EC220E can be adjusted to take "a wide variety of hydraulic lines," allowing the use of mowers, grinders, shears, crushers and tilt rotators. All attachments are password-protected by the machine's new management system which pre-sets and permits hydraulic flow and pressure to be adjusted for up to 20 different attachments.
The system also allows the operator to make on-the-fly adjustments to attachment response sensitivity through a keypad.
Speaking of, Volvo says the operator was "at the heart" of the EC220E's new design. Controls in the cab include joysticks, a keypad and an 8-inch LCD. Volvo has reduced the number of switches in the cab and integrated climate control into the machine's keypad.
Plus, operators can designate shortcut buttons on the joystick to activate certain functions with the press of a button.
In addition to the EC220E's rear view camera, Volvo is now offering a side-view camera to give a more comprehensive view of the jobsite and workers.
The machine features real-time service alerts displayed on the in-cab monitor and all of the machine's daily service points are easily accessible from ground level. Access to the machine's superstructure points is made safer through guard rails and anti-slip plates.