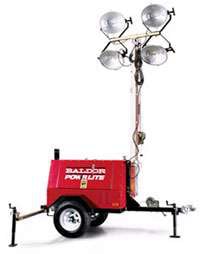 Baldor's compact mobile light tower provides 4000 watts of light anywhere you need it: Construction, Emergency, Industrial, Mining, Civil Engineering and Event Lighting. With metal-halide lamps the Baldor POW'R LITE models will provide light coverage for over 7 acres. Each model is powered by a Baldor 6000 watt light tower generator, which is designed for a compact and efficient installation. POW'R LITE light towers are powered by the dependable Kubota diesel engine. A 50-gallon fuel tank provides for 100-hours of operation.
Features:

¢ 4 powerful 1000-Watt metal halide lamps. Lamps are supported on both ends to enhance durability and long life.
¢ Elliptical light fixtures provides a more efficient light pattern than conventional round fixtures.
¢ Operator has extra 2000 watts to run jobsite equipment. Control panel includes one 120-volt GFI and one 240-volt twist-lock receptacle.
¢ Enclosure constructed with heavy gauge painted aluminum. Operator key lock and integral forklift pockets included.
¢ Zinc plated 30″ 4-section mast with coiled mast cords. Strategically positioned winch allows the telescoping tower to be erected from a standing position.
¢ Tower rotates 360 degrees.
¢ Quiet, dependable Kubota diesel engine provides flicker-free operation.
¢ Tongue weight of 155 lbs. (with full load of fuel) allows one person to conveniently move unit around any jobsite.
¢ 50-gallon fuel tank included for up to 100 hours of running time.
¢ Quality highway trailer suspension.
¢ Low oil/high temperature shutdown protection and runtime hour indicator included.
¢ Battery included.