To protect New Orleans and its residents from surges in future storms, the U.S. Army Corps of Engineers is working on a $15 billion protection system of linked levees, flood walls, gates and pumps surrounding the city.
To help get that work completed, Lafarge North America is counting on the performance of its fleet of trucks including PacLease's 1,000th truck equipped with a PACCAR MX engine, leased through PACCAR Leasing (PacLease). This particular PacLease unit is a 2012 Kenworth T800 tractor operated in the New Orleans, La. area.
"PacLease is pleased to help Lafarge accomplish important projects
that will protect New Orleans and its residents from future storms," Olen Hunter, director of sales for PacLease said in a press release. "And it's particularly gratifying that Lafarge will be doing some of that work using a Kenworth T800 tractor equipped with a PACCAR MX engine leased from our local PacLease franchise, Kenworth of South Louisiana-PacLease.
"Just 14 months after presenting the keys to a Kenworth T660 with the first PACCAR MX engine to Costco Wholesale, PacLease has leased its 1,000th PACCAR MX powered truck to Lafarge North America," Hunter said. "The fact that it took a little over a year to lease 1,000 Kenworth and Peterbilt trucks with PACCAR MX engines is a clear demonstration of the popularity of the engine. The fact that so many customers have chosen this engine speaks highly to its reputation for performance and reliability."
David Marchand, mobile equipment manager for Lafarge North America's Louisiana operation, agrees. Lafarge leases 12 trucks at this location, including five Kenworth T800 mixers, delivered in November 2011, and three Kenworth T800 tractors, delivered earlier in 2011. The T800 Extended Day Cab mixers are equipped with 10-yard mixers for increased load capacities and enhanced efficiency. The three T800 tractors are spec'd with the Kenworth Extended Day Cab and the 485-hp PACCAR MX engine providing 1,650 ft-lbs of torque powered through an Eaton Ultrashift automatic transmission.
"Our drivers really like the quality of Kenworth trucks," he said.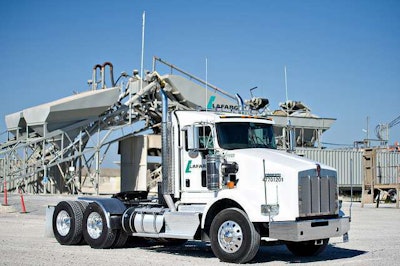 "The cross members are heavier duty, and Kenworth uses huck bolts, not rivets in the assembling of the cabs. That means our trucks don't rattle after years of bouncing around in construction zones."
Drivers also value the comfort that a Kenworth truck offers, particularly with the new trucks that are equipped with the Kenworth Extended Day Cab, Marchand said.
"The Extended Day Cab has become a standard specification for all of our new Kenworth trucks and it has really made a huge difference," he said. "The additional length and height allows our drivers to stretch their legs. Plus, the additional storage space for weather gear and other supplies helps provide a more productive work environment.
"The PACCAR MX engine is performing very well," Marchand said. "It's quiet, works in tandem with the automatic transmission and provides our drivers the power and torque they need. We really like the fact that the PACCAR MX engine is 400 pounds lighter than other available engines, which allows us to carry more payload."
"It's really the whole equipment package," he added.
Since 2006, Lafarge North America's Louisiana operation has been turning to Kenworth trucks and Kenworth of South Louisiana to help complete construction projects in and around New Orleans. Reston, Va.-based Lafarge North America is the largest diversified supplier of construction materials in the United States and Canada with six gypsum production sites, 24 cement production sites, 302 aggregates quarries and 234 ready-mix plants. It produces and sells cement, ready-mixed concrete, gypsum wallboard, aggregates, asphalt, paving and construction, precast solutions and pipe products used in residential, commercial and public works construction projects across North America. Its Louisiana operation includes 22 plants in the New Orleans area and extends north of New Orleans to the north shore of Lake Pontchartrain in Covington and west to Gramercy.
Marchand said the performance, durability, reliability and comfort that Kenworth trucks have provided his operation has been critical to the success of many of the company's projects, particularly the most challenging ones.
In addition to the T800 attributes Marchand also appreciates how full-service leasing through PacLease makes it easier for his operation to acquire quality Kenworth equipment.
"The full-service leasing option makes good operational sense. I deal with Kenworth of South Louisiana's local PacLease operation, so I have a local contact that can help me get any maintenance issues resolved. Dave Russo and the folks at Kenworth of South Louisiana-PacLease take care of us."
The move to full-service leasing was made easy by Marchand's experience with Kenworth of South Louisiana-PacLease, which provides contract maintenance for many of the trucks in Lafarge's Louisiana operation. The operation's fleet of 120 trucks includes heavy-duty trucks with dump bodies, concrete ready-mix trucks with 10-yard drums and tractors to pull a variety of support trailers.
Marchand particularly likes the ability and willingness of Kenworth of South Louisiana-PacLease to provide mobile maintenance service when the company is running trucks around the clock.
In 2010, as part of the work on the Inner Harbor Navigation Canal Lock Replacement Project, Lafarge took part in a 58-hour monolithic placement of 10,242 cubic yards of Agilia™ concrete. This placement of Agilia concrete still holds the world's record for the largest monolithic (or continuously placed) underwater concrete pour.
Agilia, which is Lafarge's proprietary high-performance, self-consolidating, self-leveling concrete mix, gave Lafarge North America an edge when bidding this special product, according to Lafarge product specialist Gerard Vitrano. The Agilia product, which requires superior mixing efficiencies, benefited from the power delivered by the Kenworth trucks, he added.
"With the complexity of our Agilia mix, we must have trucks that can handle the strict mixing demands," Vitrano said.
Brad Trueting, area manager for Lafarge North America who served as project manager for the underwater pour, believes that the project's success was enhanced by the reliability of the Kenworth Trucks and the support of full-service leasing from PacLease.
"When faced with the reality of having to place concrete for 58 hours straight, you must have your truck fleet as dependable as your hard-working labor force," Treuting said. "And by leasing the Kenworth trucks from PacLease, we're getting maximum return on the asset. Kenworth of South Louisiana-PacLease provides us remote servicing when the trucks need to be serviced. PacLease takes on the risk of residual value at the end of the lease. So, we're not having to deal with any unforeseen costs through the life of the lease. And with even monthly payments, it's easier to budget the use of the trucks on these different projects."
Lafarge's Louisiana operation recently delivered the remaining yardage of high-performance concrete to pour the final bridge pilings and the eastbound approach ramps for the new U.S. Interstate 10 Twin Span Bridge. This 5.4-mile long bridge over Lake Pontchartrain has 55,000 daily commuters. Hurricane Katrina severely damaged the original twin span in 2005. Temporary fixes immediately following the disaster restored traffic on the old twin span. Meanwhile construction of the new six-lane twin span bridge, which started in 2006, took five years to complete and cost more than $800 million. Lafarge poured all of the concrete used in its construction.
"When we're involved in those kind of placements, we have a lot of equipment out there plus dedicated concrete batch plants operating and mixers pouring concrete continuously," Marchand said. "In order to complete them, we have to have trucks that we can depend on to perform. But just as importantly, we need a local dealer that we can rely on to help us choose the right specs for those trucks and keep them rolling. We get all that with Kenworth trucks, Kenworth of South Louisiana and PacLease through their contract maintenance and full-service lease products."