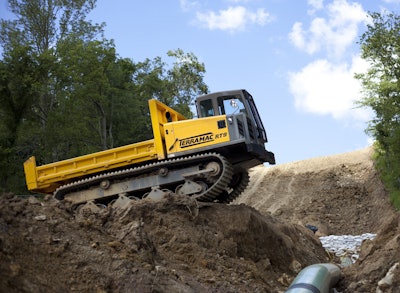 Terramac's RT9 multi-purpose carrier for utility construction is on display at Booth N2030 at the 2013 International Construction and Utility Equipment Exposition (ICUEE), October 1-3 in Louisville, Kentucky.
Powered by a 230-horsepower Cummins diesel engine, the RT9 boasts an operating weight of 26,000 pounds and a maximum carrying capacity of 18,000 pounds.
The machine is touted as the largest mid-sized rubber track carrier that does not require special oversized permitting for transportation.
The customizable carrier is equipped with front and rear bolt-on connections, and its electrical power sources, frame adjustments and hydraulics can be customized to suit any attachment. The rubber tracks allow for further versatility, preventing the machine from tearing up the ground or road surface at the jobsite.
The unit's bed elevates to a 67-degree angle for dumping and can fold down for side-loading.
The rubber track crawler carrier has a ground pressure of 4.9 psi; a 10-foot turning radius; an overall length of 17 feet, 7 inches; a width of 8 feet, 5 inches; a height of 9 feet, 3 inches; and a minimum ground clearance of 20 inches.
The RT9 can travel at speeds up to 6 mph.
The RT9 is designed with a tilt hood for easy access to key service points.