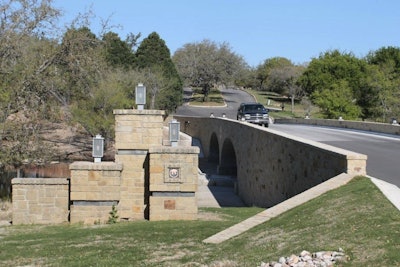 SFC Bridge Systems has completed construction of a $658,000 two-lane vehicular bridge along Bay West Boulevard in Horseshoe Bay, Texas.
SFC Bridge Systems, a division of Fort Worth-based general contractor Speed Fab-Crete, designed, manufactured and assisted in the installation of the three-sided concrete arch bridge system, which was constructed, in part, using local materials like Texas Limestone.
The Bay West Boulevard Bridge replaces a low-water crossing that was prone to safety hazards such as flooding, ice, glare and, for pedestrians and bicyclists, an algae-covered walkway.
The new bridge features a clear-span, twin-cell arch box bridge structure. Each cell spans 36 feet, while each arch has a concrete strength of 5,000 psi and can carry 40,000 pounds of HS25 axle-loads.
Other companies involved in creating the bridge include Ross Construction from Austin, Texas; Willis Environmental Engineering from Marble Falls, Texas; and PreTek Group from Waynesville, Ohio.