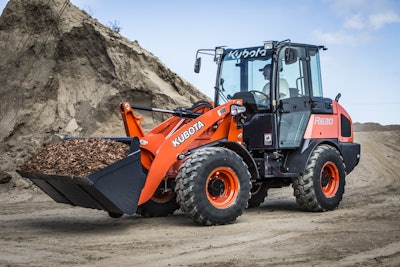 Kubota has added two additional models to its compact wheel loader lineup, the 47.9-horsepower R530 and 61.2-horsepower R630, in a press event this week that was capped by the company's long-awaited announcement it was entering the skid steer market.
The R530 loader has an 8.2-foot clearance, allowing you to work under low-hanging branches and low bridges. It has a 25-foot 4-inch loader clearance circle turning radius and a with-bucket rated operating capacity of 2,546 pounds.
The R630's electronic hydrostatic transmission has four operating modes – normal, eco, power and attachment – to handle specific tasks. The R630 is Kubota's first wheel loader entry into the 60 to 80 horsepower range. With a dump clearance of 8 feet 3 inches, the R630 has 27-foot-3 inch loader clearance circle and a standard bucket capacity of 1 yard.
Both machines have a hybrid linkage system, which combines the advantages of Z- bar and parallel lift, and keeps the load level and steady while raising and lowering the lift arms. The articulation joint allows 8 degrees of frame oscillation and 40 degrees articulation left and right. A diff lock switch immediately engages both front and wheel wheels for slip-free traction.
The common rail system electronically controls fuel injection timing on the Kubota EGR engine, resulting in better fuel economy and less engine noise. An automatic regeneration system burns accumulated soot in the diesel particulate filter; it can also convert to a manual function if you're working in a highly combustible environment.
In the cab, rear visibility is enhanced by rounded glass corners and a sloped rear hood. The models also have a four-post design. A wide front windshield and redesigned Z-bar linkage allow unobstructed views to the quick coupler. All major loader functions are operated on a single right-hand lever.
The two models brings to four the number of models included in Kubota's compact loader line, which includes the R420S and the R520S.
This article was written by editorial director, Marcia Gruver Doyle.