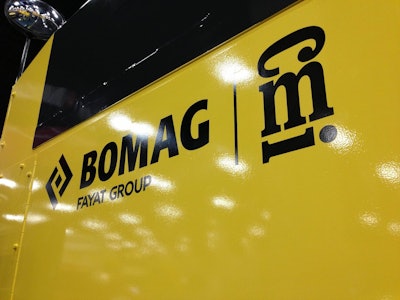 So this is what they'll look like.
BOMAG has brought a stabilizer/reclaimer and a paver to the World of Asphalt show in San Antonio that introduces not the only the former Terex products but reveals their badges. The machines are of course yellow, but the badging has retained the old CMI and Cedarapids names on the side of the equipment in a sort of composite logo with BOMAG.
It's not clear if the joint logo was in the sales contract when Terex divested some of its product lines, including these two, to BOMAG, but the new owner basically decided it wanted to keep these wonderful names front and center in the industry and so went ahead with a new logo design.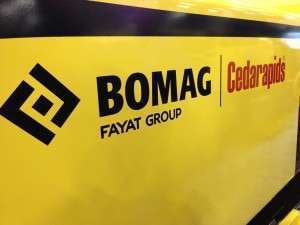 You know me, I like the idea of keeping grand old flags flying in this industry. Odds are many, many people still at work in transportation infrastructure construction used them. And if they are unfamiliar names to the younger generations in the company or department, ask the silverbacks.
Odds are you'll some rambling good stories and case histories
In addition to pavers and stabilizers/reclaimers, BOMAG also now owns Terex's old mid-range material transfer devices, but none were at the show.
The sale complete now, BOMAG's Dave Dennison says the company is moving ahead with establishing a distribution network, something expected to take several months.