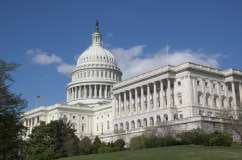 Two shale energy representatives today told the United States House of Representatives Natural Resources Subcommittee on Energy & Mineral Resources that shale gas and oil is having a positive economic affect on more than just the energy sector.
Whit Perryman, CEO of Vermeer Equipment of Texas-Louisiana and Associated Equipment Distributors' (AED) 2013 vice president, and Don Shilling, president of General Equipment & Supplies and AED's 2013 senior vice president, testified on behalf of shale energy at a hearing entitled "America's Onshore Energy Resources: Creating Jobs, Securing America, and Lowering Prices."
Perryman cited AED, which estimates shale energy equipment revenues have had an economic impact of more than $2.4 billion in Texas alone. Perry also noted how the energy boom has increased employment and allowed companies to expand in Texas and Louisiana.
Shilling testified on behalf of both AED and the Energy Equipment and Infrastructure Alliance (EEIA), a newly-created organization representing industries and workers supporting energy development.
Shilling discussed the positive effects of domestic energy extraction on his company, as well as the importance of allowing states to regulate energy development while streamlining the federal permitting process.
For more information, visit naturalresources.house.gov or view Perryman's written statement or Shilling's written statement.