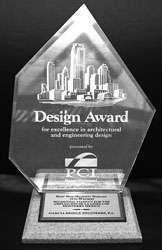 The Precast/Prestressed Concrete Institute (PCI) has announced the winners of the prestigious 2014 PCI Design Awards. Oldcastle Precast's North Milliken Avenue underpass project in Ontario, CA, took home the award in the Best Non-Highway Bridges category.
The railroad underpass was a redesign from another material that saved the project over $ 1 million. The bridge was converted from its original steel design to a modified prestressed single box girder. Oldcastle Precast-Perris provided the precast concrete railroad underpass components for this project.
The high-strength precast concrete units met stringent American Railway Maintenance-of-Way Association strength and deflection requirements despite limited vertical clearance. The requirements were met by using high performance, 9000 psi, concrete and prestress forces.
The new underpass includes a two-span bridge measuring 171 foot long by 52 foot wide. A precast concrete T-wall based retaining wall system extends half a mile in either direction on both sides of the track to elevate the line while meeting the right-of-way requirements. Seven foot-deep precast fascia beams also support maintenance walkways, railings, and communication conduit on both sides.
The New York Avenue Bridge Rehabilitation Project in Washington, D.C. took top honors in the Best Transportation Special Solution category. The bridge, which originally opened in 1966, is a major transportation corridor into Washington, D.C. from Maryland. The rehabilitation project involved the demolition, removal, lowering, and reconstruction of the twin-span bridge superstructure; piers rehabilitation; widening of existing abutments; the construction of two independent piers to support gateway monuments; and overall improvements to the approach roadways, pedestrian sidewalks, and roadway lighting features.
Since the bridge crosses numerous rail lines operated by Amtrak, Metrorail, and regional commuter trains, it was important to limit traffic impacts when addressing constructability issues. The use of precast, post-tensioned concrete deck panels that cantilever over the exterior girders allowed for faster construction, eliminated delays associated with formwork construction and concrete curing time, facilitated deck replacement, and caused less disruption to the train traffic.