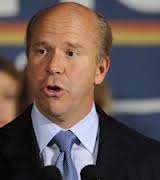 We've heard for years now that the private sector has money that is just waiting to be invested in our future transportation infrastructure. And it's still waiting. Now comes a hugely-successful private sector businessman turned Congressman with an idea.
Some of it borrowed from Bill Clinton.
Maryland Congressman John Delaney, a self-made multi-millionaire financier, has said he will introduce legislation creating the Office of Infrastructure Investment and the American Infrastructure Fund, housed in the Treasury, that would make loans to states – or to guarantee a state or local bond issuance – provided that the proceeds of the loans or bond issuance are invested in qualifying infrastructure projects.
"Within the next month, I intend to introduce a bill that will create a large scale infrastructure funding capability that can rebuild our aging infrastructure, position the United States to compete globally in the 21st century, and create jobs," Delaney said. "Our proposal will be rooted in the notion that the federal government should be partnering with local governments and the private sector in tackling this important challenge."
According to CNN, Delaney, a Democrat, is the only member of the House who's served as CEO of a publicly-traded company first, for HealthCare Financial Partners, which lent money to for-profit health care providers; then for CapitalSource (CSE), which makes loans to mid-sized businesses ignored by the big banks.He's also one of the richest men in Congress.
Delaney's says his plan, among other things,
Creates a large scale funding capability for rebuilding transportation, energy, communication, water and educational infrastructure using a disciplined public-private partnership model;
Helps working families by putting Americans to work and improving overall U.S. competitiveness;
Creates a path for repatriation of overseas corporate earnings in a manner that ensures American job creation (This is t

he Clinton connection that is linked

in the Delaney announcement.)
In today's Washington political scene, and with reauthorization really just around another couple of corners, a pro-active move like this is worth a lot of support. If it can get The Hill People discussing the proposed bill's details and operating machinery, constructively talking about ideas and strategies to make some of it actually happen, then Delaney will have poured some good oil on troubled waters.