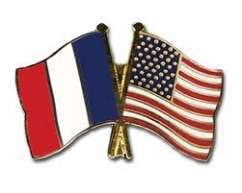 Oh yeah, it's on. France has fired back at what their social media are calling "le French bashing" by a salty American business leader.
A cabinet minister and a factory union leader lead le charge, the former calling US's Titan Tire CEO "ignorant" and the latter saying he should be institutionalized. Our blunt-speaking CEO in turn calls the factory union mentally unstable.
Yesterday we saw U.S. CEO Maurice Taylor writing to France's minister for industrial recovery, Arnaud Montebourg, and blasting French workers as for not working very hard (see my earlier blog post). Now M. Montebourg has used some choice words of his own, calling Mr. Taylor "ignorant." Actually he accused Mr. Taylor of showing "a perfect ignorance of what our country is."
Mikael Wamen, head of the CGT union at the factory, said that Mr. Taylor belonged "more in a psychiatric ward than at the reigns of a multinational company."
Is this "l'America bashing?"
The French response to Mr. Taylor's broadside has also got the French press involved in arguments about whether or not French workers put in less hours (France has a 35-hour work week by law) but are but more productive, or put in less hours and in doing so are damaging France's economy.
The minister triggered the bout when he asked Titan to buy a Goodyear tire factory in Northern France that is about to shut down. Mr. Taylor fired back that he'd been to the factory and found, despite high wages, "The French workforce gets paid high wages, but works only three hours. They get one hour for breaks and lunch, talk for three and work for three hours," he wrote. "I told this to the French union workers to their faces. They told me that's the French way!" The story, originally appeared in a French newspaper, and has revealed some other choice "Taylorisms." For example the American asks the minister "How stupid do you think we are?" and "You can keep the so-called workers."
Time now for the minister to throw some data-filled punches: "May I point out that Titan, the company you lead, is 20 times smaller than Michelin, our French leader of international influence, and 35 times less profitable?"
Mr Taylor meantime talked to the French press and said he didn't want to insult France, but "I wanted to say that the union at the factory in Amines has a screw loose."
Le bashing is getting tres chaud.