By Brian Ethridge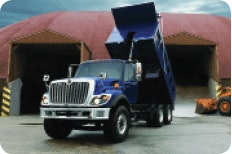 Fuel-efficient Navistar engine
Navistar has started shipments of its first vocational vehicles with 9- and 10-liter engines using Selective Catalytic Reduction (SCR) emissions technology. The new engines reportedly provide up to 8-percent fuel economy improvement in International DuraStar and WorkStar trucks. The engines are built on Navistar's proven I-6 platform with 9.3-liter displacement and 860-1, 150 lb.-ft torque in a weight-saving, medium-duty package.
betterroads.com/new-navistar-engine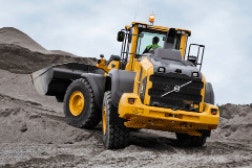 L110H & L120H wheel loaders
Volvo has launched its new 18- to 22-ton-class L110H and L120H wheel loaders, delivering 256 and 268 gross horsepower, respectively. An 8-liter Tier 4 final D8J engine with fully automatic regeneration delivers high performance while lowering emissions and reducing fuel consumption. With operating weights ranging between 19.8 and 22.8 tons for the L110H and between 20.4 and 23.8 tons for the L120H, the loaders feature 25,265- and 26,830-pound static-tipping loads at full turn.
betterroads.com/volvo-wheel-loaders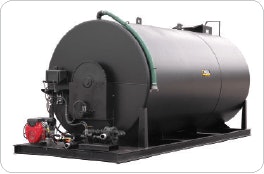 Neal storage tanks
Neal Manufacturing, a division of Blastcrete Equipment Company, offers long-term storage solutions with its skid-mounted sealer mixer tanks. The storage tanks are made with high-quality components and heavy-gauge materials for durability, reliability and exceptional material transfer. The unit's exclusive offset agitation keeps two of the three bladed submerged in the material at all times, which helps when breaking up settled material.
betterroads.com/neal-storage-tanks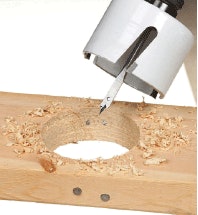 IDEAL Tri-Bore hole saw
IDEAL Tri-Bore multi-purpose hole saw claims to cut through virtually any construction material, including cement. Its diamond-sharpened carbide teeth are larger than traditional hole saws for improved speed, cleaner cutting action, and minimized vibration. The larger size works to reduce stress by acting as an absorber that dispels vibration more readily as the saw moves through the cutting surface.
betterroads.com/ideal-tri-bore-hole-saw