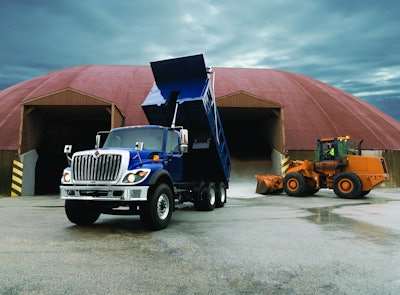 Navistar has started shipments of its first vocational vehicles with 9- and 10-liter engines using Selective Catalytic Reduction (SCR) emissions technology. The new engines reportedly provide up to eight percent fuel economy improvement in International DuraStar and WorkStar trucks.
"Our field test customers are seeing positive results – with our new trucks registering significant fuel economy improvements," said Bill Kozek, president, North America Truck and Parts, Navistar. "Our vocational trucks with 9- and 10-liter engines are also experiencing fewer active regenerations while still delivering the durability and power that customers expect from International trucks."
The engines are built on Navistar's proven I-6 platform with 9.3-liter displacement and 860-1, 150 lb.-ft torque in a weight-saving medium-duty package.
Several field tests conducted in extreme environments to ensure the engines were top quality.
"We've run our DuraStar with the 9-liter for around 40,000 miles during the last two months," said Robbie Easley, owner, Easley Trucking. "We haul mail and the 9-liter has performed well on the steep hills our trucks climb daily. This truck runs between Phoenix and Yuma, Arizona, one of the hottest environments you can find, and it hasn't missed a beat."