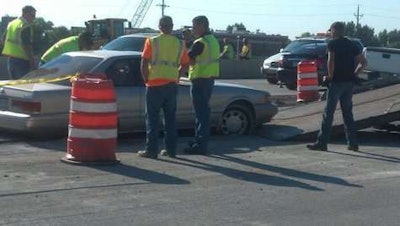 An elderly woman caused $10,000 worth of damage when she drove through 50 feet of newly poured cement in the 25th Street construction zone in Fargo, North Dakota.
The 78-year-old woman was southbound when she got confused by road signs, took a wrong turn and ended up in cement that had just been poured. Her car sunk into about a foot of the wet cement before grinding to a halt.
The damaged concrete had to be replaced.
Police say the elderly woman was on her way to a doctor's appointment when the accident occurred. She was not cited.
Luckily the woman did not hit anyone, all road workers were safe, and she walked away unscathed as well.